THE BEST AMERICAN MYSTERY STORIES OF 2007
by Deborah Elliott-Upton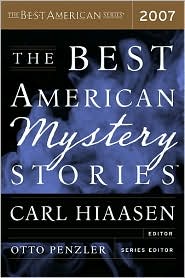 In another column, I wrote of the 2007 issue of The Best American Short Stories. This week I received the 2007 issue of The Best American Mystery Stories. Carl Hiaasen is the editor and Otto Penzler the series editor. Penzler notes mystery writers frequently ask him where to submit their stories and he is regrettably unable to supply many beyond the kings of the mystery short stories, Ellery Queen Mystery Magazine and Alfred Hitchcock Mystery Magazine. Once more, we are at a crossroads as writers and readers—where do we go from here?
Penzler reminds us that Redbook first published Dashiell Hammett's The Thin Man. Once Good Housekeeping and Ladies Home Journal "proudly ran stories in every issue." Argosy, Esquire, the Saturday Evening Post, Colliers, Scribners, Cosmopolitan and Playboy printed short fiction in their pages as a matter of course. The New Yorker still publishes what some refer to as "quality fiction," but probably not genre fiction.
I'm wondering if we as people who appreciate good fiction—and especially good mystery fiction—shouldn't continue taking this as an fait accompli. Aren't we a nation who protests when we aren't being treated fairly? Given our equal rights? Kept from practicing our beliefs? Perhaps it's time to write in droves not to our Congress, but to magazine editors and request (we are civilized protesters after all) that fiction be reintroduced in their magazine pages. I'm wondering why the woman who made reading a national priority again didn't include short fiction in her popular magazine? Do you suppose if Oprah's readership asked for short stories, she would oblige?
We'll never know by not asking.
As I encouraged Criminal Brief readers to support the magazines that do publish short stories, I am now asking you to write to your favorite magazines to request they begin adding fiction to the mix. It doesn't even have to be a postage-laden letter. E-mail works these days and many magazines have web sites and welcome comments and/or support message boards.
In the meantime, it's nice to know that anthologies currently contain some of the best mystery story collections in both hard copy and online. One of my favorite online magazines is Crime and Suspense, edited by Tony Burton. The Best American Mystery Stories culled stories from Zoetrope: All-Story, Hard Boiled Brooklyn, The New Yorker, Tin House magazine, The Georgia Review, Prairie Schooner, Miami Noir, Manhattan Noir and others. Several stories were from the anthology, Mystery Writers of America Presents: Death Do Us Part: New Stories About Love, Lust and Murder.
Actually, this is a great time to sit back, prop up my feet and read a short story or two. It's nice to have mini rewards for ourselves and reading certainly fits the bill for a No Excuses Necessary treat. Besides, I already have a new book filled with the kind of stories I enjoy most. It's definitely where I want to go on a day like today.