MEME A LITTLE MEME OF ME
by Steve Steinbock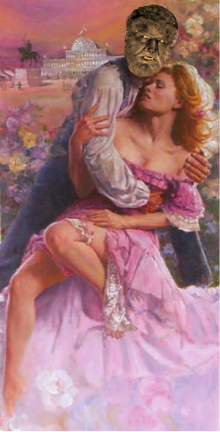 What is it with teen supernatural romance novels? Continuing on last week's Meme theme, I want to put the question out there as to what forces are behind current literary trends. I'd like to blame it all on the big publishing houses and their marketing departments, but that's not the whole story.
This week I went looking for some new Young Adult mysteries. The last one I read was the Edgar-winning Paper Towns by John Green. It was a beautiful book, but it's connections with the crime/mystery genre was a little loose. My twelve-year-old had been devouring The Last Thing I Remember by Andrew Klavan. It looks quite good, but I have to wonder if the press and school librarians have been ignoring it on account of the author's politics.
My search for new YA mystery titles took me to the Kid's Next list at IndieBound.org. In their list of the top 10 recommenations for kids and YA readers, I didn't find a single title I would call a mystery. There was a sci-fi thriller, four fantasy or horror novels, and a couple of historical dramas. In the longer list of twenty-five recommendations for Teen Readers, there were several vampire, werewolf, and ghost romances, but only one book that I would loosely consider a mystery.
When I was little, I could recite the dates, directors, and stars of every Universal horror film. Every day after school I would rush home to watch Dark Shadows. I don't have a problem with horror and dark fantasy. I like it. But I find it disconcerting that one popular series of vampire romance novels has led to an absolute glut of the stuff.
I've had my say. Now on to part two of the Internet Meme I started last week.
Bookish, part Two
(14) What is the most lowbrow book you've read as an adult?
I only read lowbrow books! What exactly do people mean when they refer to something as lowbrow? I'm not sure. I suppose it's anything that educated people are supposed to be above. I'm just guessing, but I'd put even money that most American readers, when shown a 1950s or 60s paperback copy of a novel by Erle Stanley Gardner, Ed McBain, or Rex Stout, would be apt to classify it as lowbrow. Is popular fiction – be it a mystery, a romance, a western, or whatever – lowbrow by definition? Maybe lowbrow is simply the opposite of pretentious. When I think of highbrow literature, that old line that Woody Allen paraphrased from Groucho Marx:"I'd never join a club that would allow a person like me to become a member."
(15) What is the most difficult book you've ever read?
I'm sorry to say I've never finished a book by Neal Stephenson. The guy is brilliant, but his stuff just goes right over my head. I have to say that I finished, enjoyed, and had a pretty good grasp of Umberto Eco's Foucault's Pendulum, despite hearing it used as the butt of several jokes about books that no one has ever finished.
(16) Shakespeare, Milton, or Chaucer?
Shakespeare, of course.
(17) Austen or Eliot?
Austen.
(18) What is the biggest or most embarrassing gap in your reading?
Tolstoy.
(19) What is your favorite novel?
(20) Play?
That's easy: "Guys and Dolls." But I'm not really crazy about the 1955 film adaptation. Marlon Brando is not my idea of Sky Masterson.
(21) Short story?
That's a hard one to narrow down. I'd say either Poe's "Descent into the Maelstrom" or something by Borges.
(22) Work of non-fiction?
That's another tough one. The two non-fiction books that I most remember enjoying are Den of Thieves by James Stewart and Truman by David McCullough.
(23) Who is your favorite writer?
That's a happy toss-up between Lawrence Block and Fredric Brown. Both men produced a lot of good quality novels and short stories. Larry is still around and pumping them out.
(24) Most overrated writer(s) alive today?
I could name a few, but I won't.
(25) What is your deserted island book?
The Bible. It has intrigue, sex, morality, and architectural design. What else can you ask for?
(26) And … what are you reading right now?
This blog. Oh, what book? Elric Stealer of Souls by Michael Moorcock as well as a collection of essays on Spanish-Jewish culture and language called Ladino Reveries by Hank Halio.
Be back next week.