CLASS NOTES
by John M. Floyd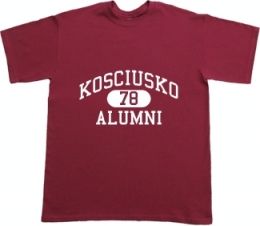 This summer I attended a high school class reunion. Not the 25th or 50th or anything quite so normal — this was our 44th. (That makes me 61, and the only good thing about that is that I can start Social Security on my next birthday.) We had a great reunion — even my wife says she enjoyed it, which is probably a lie but an extremely kind one.
I'm convinced that the smartest person involved in planning the event was the lady who prepared nametags that also featured our high-school yearbook pictures. Everyone spent a lot of time staring at each other's chests, but because of those little wearable cheat-sheets we at least knew how to address our classmates. Sometimes the current faces and the long-ago photos even resembled each other.
Most of the attendees had changed jobs and spouses and belt sizes since previous reunions, but it was fun catching up on the lost years and finding out about kids and grandbabies and who was doing what. The occupations were pretty typical, in that Kosciusko High's Class of 1965 produced everything from teachers and doctors (probably not enough) to lawyers (probably too many) to, sadly, a few politicians.
One old friend said to me, "I heard you're a writer."
"Yep," I said.
"What do you write? Nonfiction?"
"Mysteries, mostly."
"Novels?"
"Short stories."
He looked a little puzzled. "Weren't you voted Most Likely to Succeed?"
"Yeah, I guess I was."
"What happened?" he asked.
Okay, I'm kidding, he didn't really say that. What he did say, with a surprised and wide-eyed look, was that he likes to read mysteries. In fact, a lot of classmates that night, when they approached me and said they'd heard about my "second career," said the same thing. Not just that they like to read, but that they specifically like to read mystery stories.
Was that because most of them already knew that mysteries are what I enjoy writing? Maybe — but I don't think so. Saying "I heard you're a writer" might just be a handy way to begin a conversation, but on this point of preference I think they were being honest. Most folks do enjoy reading mysteries.
I heard something interesting awhile back, on that topic. It was that readers will always like mystery/suspense fiction because, since all of us fear injustice, we enjoy stories where justice is usually served in the end. I agree. I've always said that in the best fiction the characters (both good and evil) wind up getting what they deserve, and that's especially true in mystery/crime/suspense fiction. Those kinds of stories give us as readers the belief that when all's said and done, there's a measure of order and balance in our lives, which are (God knows) too often disordered and out-of-balance.
I've also heard that the mystery genre is second only to romance in its number of readers. When you consider the fact that something like half of all the paperbacks sold in this country at the turn of the century were romance novels, that's not bad.
But even if the folks who said to me at the reunion that they enjoy mystery stories were just being polite and stretching the truth a bit, it wouldn't have been the biggest lie told that night. That prize would go to the following:
"I'd have known you anywhere — you haven't changed a bit!"
On the subject of bygone events . . .

Here are answers to the first 20 questions in last week's "movie quotes" quiz:

1. Tell them Inspector Callahan thinks there's a two-eleven in progress at the bank. DIRTY HARRY (Clint Eastwood, into the phone at the cafe across the street)

2. That plane's dusting crops where there ain't no crops.
NORTH BY NORTHWEST (Man in the road, to Cary Grant)

3. If I don't come back, tell Mother I love her. / Your mother's dead, Llewelyn. / Well then, I'll tell her myself.
NO COUNTRY FOR OLD MEN (Josh Brolin / wife / Brolin)

4. Anybody hear that? It's an impact tremor, that's what it is. I'm fairly alarmed here.
JURASSIC PARK (Jeff Goldblum)

5. And that was the end of Grogan — the man who killed my father, raped and murdered my sister, burned my ranch, shot my dog . . . and stole my Bible.
ROMANCING THE STONE (Kathleen Turner, narrating)

6. You are in need of a soothsayer. / How did you know? / I'd be a fine soothsayer if I didn't.
A FUNNY THING HAPPENED ON THE WAY TO THE FORUM (Zero Mostel / Buster Keaton / Mostel)

7. This lighter has sixty-two different functions. Sixty-three if you wish to light a cigar. OUR MAN FLINT (James Coburn to boss Lee J. Cobb)

8. Funny thing is, on the outside I was an honest man. I had to come to prison to be a crook.
THE SHAWSHANK REDEMPTION (Tim Robbins)

9. I'd like to make her look a little more attractive. How far can you pull back? / How do you feel about Cleveland?
TOOTSIE (Director / cameraman)

10. That's a Smith and Wesson — and you've had your six.
DR. NO (Sean Connery to inept assassin Anthony Dawson)

11. Don't open my pantry, Father. I found one of them in there and I locked him in. SIGNS (M. Night Shyamalan to Mel Gibson, in front of the vet's farmhouse)

12. What if there is no tomorrow? There wasn't one today.
GROUNDHOG DAY (Bill Murray to Andie McDowell)

13. The greatest trick the devil ever pulled was convincing the world he didn't exist.
THE USUAL SUSPECTS (Kevin Spacey)

14. You just shot an unarmed man! / He should've armed himself.
UNFORGIVEN (bystander / Eastwood)

15. When you said you chased tornadoes, I thought that was just a metaphor.
TWISTER (Jami Gertz to Bill Paxton)

16. Travis! Bring your gun!
OLD YELLER (Dorothy Maguire to son Tommy Kirk)

17. That was the end of my religion period. I ain't sung a hymn for 104 years.
LITTLE BIG MAN (Dustin Hoffman)

18. I'll get you, my pretty, and your little dog too.
THE WIZARD OF OZ (Margaret Hamilton to Judy Garland)

19. I want Ness . . . dead. I want his family . . . dead. I want his house . . . burned to the ground.
THE UNTOUCHABLES (Robert DeNiro to his assembled goons)

20. Why would a man leave his apartment three times on a rainy night with a suitcase and come back three times?
REAR WINDOW (James Stewart to Grace Kelly)

More quiz answers next week . . .