IMPRECISELY, MY DEAR WATSON
by James Lincoln Warren
"For parlor use, the vague generality is a life-saver." —George Ade
Military folks love to tell jokes about military life, either berating rival services or making light of the vagaries of their own. One of my favorites goes like this:
The Difference Between the Services
Define the following order: "Secure the building."

U.S. Navy: Turn out the lights and lock the doors.

U.S. Army: Occupy the building and post sentries.

U.S. Marine Corps: Lay down suppressing fire and assault the building.

U.S. Air Force: Take a five-year lease on the building with an option to buy.
The U.S. Coast Guard isn't represented in this joke because they aren't funny. (Rimshot. I'll be here all week.)
One has to be careful in inter-service communications. I remember once when my second ship, USS Harry E. Yarnell (CG-17), was participating in Solid Shield '85, a biannual joint military live training exercise. We were operating with a USAF E-3 from the 963rd Airborne Warning and Control Squadron (AWACS)
—since then, the Air Force has changed their name to 963rd Airborne Air Control Squadron (AACS)—and to assist us in smoothly working with all them flyboys, we embarked an Air Force captain, an AWACS air controller and tactical computer network expert. He was my sidekick on this jaunt because I was the Combat Information Center Officer and in charge of the Navy air controllers and the operation of our own tactical computer network, and also because we were the same rank (I was a lieutenant). The Navy called the radio computer network link between our cruiser and the AWACS "Link 11"; the Air Force terminology for exactly the same thing was "TADIL Alfa". (Both of us used the RT brevity code, "Alligator", though.)
But working around the technical jargon was easy. The difficulties arose with less formal usage, like securing the building.
Yarnell was a grand old girl but she had more than her share of engineering problems—and I use the term "engineering" in its Naval sense of generating propulsion and power. Yarnell's plant consisted of four 1200-lb. boilers and four Ship's Service Turbine Generators (SSTGs). The SSTGs provided all the electrical power and ran everything that didn't run directly off steam, including the propulsion controls and service pumps. When the SSTGs weren't up to providing all the power that was needed, which was a lot what with all the computers, radars, radios, missile launchers, and so on, they would trip off line like circuit breakers, everything would go dark, and the ship would go dead in the water. This event, which happened with unfortunate frequency, is called "dropping the load" and is not remotely desirable. In fact, it's bloody embarrassing.
But our engineers ("snipes" in fleet slang) were very, very good at bringing the plant back to life whenever this happened. This wasn't so much because they did it more often than other crews on ships of a similar vintage, but because the Navy is mad for drills. Basic Engineering Casualty Control Exercises, or BECCEs (pronounced "beckies") are among the most seriously taken and frequently performed of these drills, and a good crew can do them in their sleep.
The word you should pay attention to here is "casualty". In Navy speak, "casualty" almost always refers to an equipment failure. I don't think I've ever heard it used in reference to anything else.
I'm sure you can guess what's coming.
We were steaming a couple hundred miles off the coast of Charleston. The E-3 was up and the Air Force captain was busier than a one-armed paper hanger working through our differing communications protocols when we dropped the load. It suddenly went dark and quiet, and I mean DARK and QUIET. Dark and quiet are not good at sea.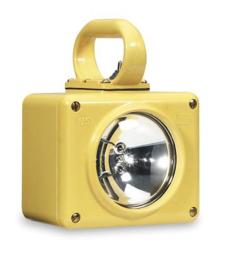 The emergency lighting, i.e., battery operated flashlights called battle lanterns, kicked on so we could see. But the emergency diesel generators ("SSDGs"), which are supposed to light off when the SSTGs fail, didn't. This also was not good.
Now as long as Yarnell was making way, she stayed on a pretty even keel. But the ship was topheavy from all the electronics that had been added topside since she was first commissioned back in 1960, and as a consequence she rolled like a beer barrel when she went dead in the water.
So we're wallowing in the dark and swaying like a drunk right in the middle of a joint exercise with a guest from another service on board who until now has been impressed with our professional demeanor. Did I mention that dropping the load is embarrassing?
Not surprisingly, Air Force reactions to losing power are rather different from Surface Navy reactions. When a ship loses power, you bob around on the surface of the ocean like a rubber duck in a bathtub. When an airplane loses power, you wind up with a large smoking black hole in the ground.
So that poor Air Force officer leaps out of his chair, his eyes wide with alarm, his heart no doubt beating like a drumroll. Ripping his radio headset off , he turns to me and cries, "What just happened?"
Even with the battle lanterns, it was dark inside CIC, so he couldn't see how red with shame my face was. Struggling mightily to maintain an air of sophisticated nonchalance, I shrugged and tossed off a reply filled with casual savoir faire, as if this were an event barely worthy of my lofty notice.
"Oh, it's just a casualty."
"WHAT? OH, MY GOD!"
You see, Gentle Reader, in Air Force speak, "casualty" is a synonym for "killed in action".
It took a little time to calm him down after that.
Which only goes to show that one should choose one's words with care. Sometimes the precise word is not the correct word. This is even more true of writing prose than it is of discussing ship malfunctions with Air Force officers, as I had occasion to learn earlier this week. I inadvertently offended one of my friends when I wrote something that I meant quite literally, but which looked like a euphemism masking a dire insult. There was considerable irony in this, because I was discussing false appearances.
In conversation, you get the opportunity to clarify your meaning, but once you commit something to writing, it had better be as clear as you can make it. You would think that this would require being as specific as you can be, but specificity can be much more dependent on context than you realize. Clarity can actually be a (ahem) casualty of too much precision. I will leave as an exercise to the Gentle Reader to consider other examples, but perhaps the greatest danger is in using words that have very specific meanings which have been adopted into the common lexicon for their implications rather than for their denotative values—all right, one more example.
Some time ago, I received a solicitation for an on-line magazine, in the title of which was the word "iconoclast". The editor chose the word to indicate "one who exposes or destroys impositions or shams." To me, though, the word means a destroyer of religious images—the meaning for which it was originally coined. In terms of how the word is understood in general usage, he's probably closer to the mark than I am, but I never would have chosen it, exactly because at least some people are going to interpret it the same way I do.
You know, the longer you stand on a soapbox, the harder it is to step down, so I'd better jump off before I'm pulled off. I don't want to wind up a casualty myself.