As far as I know, Jeff Baker still lives and writes in Wichita, Kansas, just as he did last week.

—JLW
ROBERT ARTHUR: MYSTERIOUS TRAVELER
by Jeff Baker
His output was some 200 published stories of mystery, science fiction and fantasy. His admirers have included Anthony Boucher, Isaac Asimov and Joe R. Lansdale. An early member of the Mystery Writers of America, he won the Edgar twice for his radio work. But even though his most famous characters, The Three Investigators, live on in memory (and dozens of spin-off books) the name of their creator Robert Arthur (1909-1969) has faded into literary history.
But Arthur gets a mention now and then, a story or two of his occasionally gets reprinted and the diligent browser of used bookstores can find an anthology reprinting one or more of his stories, maybe even the ones he ghost-edited for Alfred Hitchcock and Red Skelton. But only two collections of his own stories appeared during his lifetime, and no all-Arthur anthologies have been issued since.
So, before we get into his stories, we have to get into his story.
Robert Jay Arthur Jr. was born in Corregidor in the Philippines. His father was a U.S. Army Colonel and so the family traveled a great deal in his youth (foreshadowing a certain radio show?) including (briefly) Leavenworth, Kansas. Arthur's major occupations included editing and writing for magazines, newspaper, and radio. And it was radio that would give his work its biggest audience. With writing-producing partner David Kogan he worked on several radio dramas during the 1940s, and then they began The Mysterious Traveler, which aired from 1944 to 1952.
With stories introduced by an eerie passenger riding on a train, Traveler became a success regarded by some critics as a lower-budget version of the popular radio show, Suspense.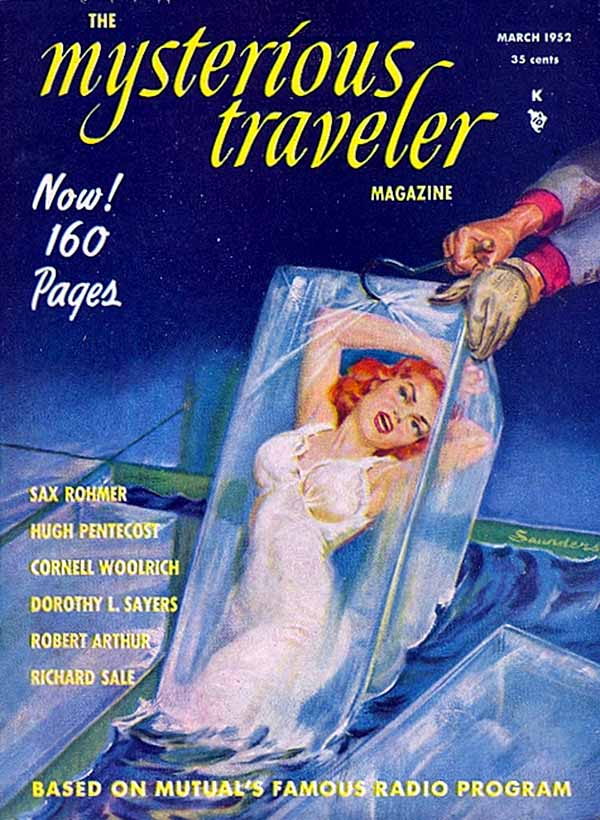 The stories on Traveler ranged from straight horror to whodunits to science fiction. Arthur was the show's major writer and he adapted many of his earlier stories and would publish adaptations of his radio scripts in later years, particularly in the show's spin-off magazine, also called The Mysterious Traveler, which ran for five issues. It was for this show that Arthur and Kogan won the two Edgar Awards.
Move ahead in time through the 1950s and to Arthur's associations with various publishers as well as movie and television executives, which led to him ghost-editing such anthologies "by Alfred Hitchcock" (tying in with his t.v. Show) as Alfred Hitchcock Presents: 16 Skeletons From My Closet, and then to ghosting anthologies "for Young People" like Alfred Hitchcock's Ghostly Gallery and A Red Skeleton In Your Closet (the latter for comic Red Skelton, who was as big a hit on TV as Hitchcock at that time.) All of Arthur's ghosted anthologies can be identified by an acknowledgment of "the invaluable assistance of Robert Arthur in the preparation of this volume," as well as by the sprinkling of Arthur's own stories (sometimes under pen-names) in the books.
This brings us to Robert Arthur's only two collections of his own work.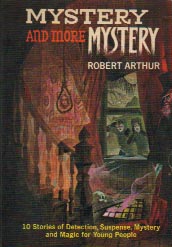 Mystery and More Mystery (Random House, 1966) features "10 Stories of Detection, Suspense, Mystery and Magic for Young People." And although it is aimed at a young-adult audience, the stories were written years earlier before Arthur's success with the YA audience. Arthur includes an afterward telling how the stories came to be written, which might have been the first time many young readers read anything about if not the mechanics of writing, then the mechanics of imagination.
The stories display Arthur's inventiveness as well as his knowledge of all the tropes of mystery fiction. "Larceny and Old Lace" features two sweet old ladies who are lifelong readers of mystery novels and use their knowledge to outwit criminals. "Change Of Address" plays out like an episode of Alfred Hitchcock's TV show, and "The Adventure of The Single Footprint" owes much to Sherlock Holmes.
Several of the stories feature impossible crimes, such as "The Blow From Heaven," where the victim is stabbed by a knife from nowhere.
The tour de force in the book is "The Mystery of the Three Blind Mice," which blends an impossible crime and a near-dying message with a young detective and his father, as well as an homage to Richard Austin Freeman's Dr. Thorndyke.
And did I mention the victim was apparently shot by mice?
"Mystery and More Mystery" is fine, but there are many more Arthur mysteries that could be included or should at least be mentioned. Among my favorites:
"Distress Call," which features a clever gimmick.
"The 51st Sealed Room" where an author of locked-room mysteries is found decapitated inside a sealed and locked house. (Too grisly for a YA anthology!)
"Eye Witness" where the perfect murder goes horribly wrong, and I can just imagine this as an episode of Alfred Hitchcock Presents too.
And "… Said Jack The Ripper." This one may or may not blend crime and fantasy, about the curator of a small wax museum who talks to the figures at night and swears they talk back (except for Jessie James.) Then a present-day desperado intrudes on the curator's fantasy world.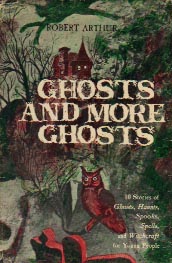 The last story would have fit in perfectly in Arthur's other collection of his own work: Ghosts and More Ghosts (Random House, 1963) which presents, without author comment, ten of Arthur's stories of fantasy and horror. There are actually more humorous stories than in Mystery and More Mystery.
Some highlights include two of the stories about his Jorkens figure Murchison Morks, including the funny and spooky "Obstinate Uncle Otis," the neglected and perfect fantasy "Don't Be A Goose," and "The Wonderful Day," (imagine the town in "The Music Man" with a little magic thrown in.)
"Footsteps Invisible" and "Do You Believe In Ghosts?" are horror stories with nary a laugh in sight, but "Mr. Milton's Gift," basically an odd-little-shop fantasy, would have been a perfect episode of the original Twilight Zone series, possibly with Burgess Meridith in the lead.
But Arthur has not been entirely forgotten. There is a fine web page maintained by his daughter Elizabeth (from which much of the biographical information was taken) which includes links to Arthur fan Mark Zahn's web page including new Three Investigators stories as well as an on line revival of The Mysterious Traveler Magazine.
Much of Arthur's short fiction remains out of print. There has been talk lately of a possible collection of mysteries. One can only hope.
And say, for Arthur's many fans, the words of anthologist Martin Greenberg that a serious collection of Arthur's work is "long overdue."