ON A SHORT LEASH
by Steve Steinbock
I've got to keep myself on a short leash. Otherwise I just have too much fun. And then were would my Criminal Brief column be?
Last weekend I had a wonderful time at Bouchercon. It's always great seeing old friends and making new friends. I connected with fellow Criminal Briefer John Floyd and former Criminal Briefer Angela Zeman. I had lunch with Melodie Johnson Howe. And I had numerous meals with Crippen and Landru publisher Doug Greene.
Speaking of Crippen and Landru, I had a chance to see their newest anthology. The book is A Tale About a Tiger and Other Mysterious Events: The Collected Crime Stories, volume 1 by S. J. Rozan. It's a beauty. Crippen and Landru standing order customers will be receiving theirs in the mail in the next few weeks. Everyone else can order it from your favorite bookshop.
One of the highlights of Bouchercon was the Thursday evening presentation of the Barry, Macavity, Crime Spree, and Derringer awards. The Derringers are given each year by The Short Mystery Fiction Society. The winners for this year's Derringers were:
Left to right: Clark Howard, Ruth McCarty, Linda
Landrigan, Janet Hutchings, and Jim Doherty
photo by Ruth McCarty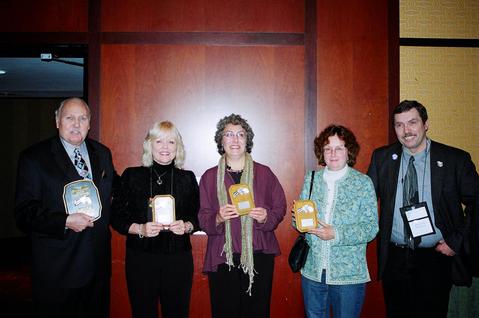 BEST FLASH STORY: A tie between "No Place Like Home" by Dee Stuart (Mysterical-E) and "No Flowers for Stacey" by Ruth McCarty (Deadfall: Crime Stories by New England Writers).
BEST SHORT STORY (1,001-4,000 words): "The Cost of Doing Business" by Michael Penncavage (ThugLit).
BEST LONG STORY (4,001-8,000 words): "The Quick Brown Fox" by Robert S. Levinson (Alfred Hitchcock Mystery Magazine).
BEST NOVELETTE (8,001-17,500 Words): "Too Wise" by O'Neil De Noux, ( Ellery Queen Mystery Magazine).

Most moving, however, was Jim Doherty's announcement that the Golden Derringer for Lifetime Achievement had been renamed the Edward D. Hoch Memorial Golden Derringer for Lifetime Achievement. The presentation was very emotional. Clark Howard received the award.
I'd never met Clark Howard before. It was a treat. In fact, at one moment while standing in the hall afterward, there were Brendan DuBois, Clark Howard, and Doug Allyn, three of the current greats in short mystery fiction.
Left to right: Brendan DuBois, Clark Howard, and Doug Allyn
photo by Ruth McCarty
A Plug for Poe
A quick plug for AudioFile Magazine and Edgar Alan Poe. As some readers know, I'm a contributing editor for AudioFile, a magazine dedicated to audiobooks and the spoken word. To celebrate the 200th anniversary of the birth of the daddy of detection, AudioFile and Naxos Audio have posted The Fall of the House of Usher, The Pit and The Pendulum & Other Tales of Mystery and Imagination read by William Roberts. The set includes the named stories as well as "The Tell-Tale Heart," "The Black Cat," "The Cask of Amontillado," and "The Masque of the Red Death." You will have to hand over your email address in order to get the download link, but it's a small price.