AMAZING
by Rob Lopresti
The first mystery convention I ever attended was Bouchercon XIV, held in New York in 1983. It happened to be a terrible season for the flu, and a lot of authors and attendees stayed home sick.
The big entertainment on Saturday night was supposed to be a magician who was going to cut a lady in half. Alas, he called in to report that the lady had the flu, so he would have to cancel. The convention management offered to find another woman he could cut in half but he assured them it wasn't that simple.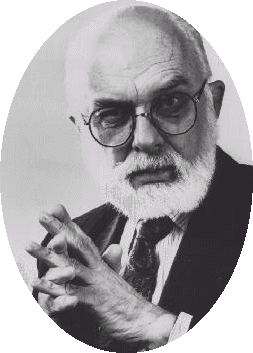 This meant the management had to find someone who was willing and able to entertain several hundred mystery fans on a few hours notice. And boy, did they succeed. The word went out that the substitute would be another magician — the Amazing Randi.
Now I don't know as much about magic as, say, our own beloved Steven Steinbock, but I did understand that this was somewhat like the waiter saying "We're all out of hamburger. Would you settle for filet mignon at the same price?"
His new trick
James Randi was famous for his many appearances on TV, doing escapes from straight jackets and other stunts. But when he showed up on stage — a short, balding man, with a Rasputin-like beard — it turned out he wasn't interested in doing magic. He had had a midlife crisis, you might say, and wanted to tell us about his new career plan.
Oh, he did some tricks, all right, mind-blowing impossible stunts. But that was just to show off his credentials, so to speak.
Randi explained that he had recently joined Mensa, the organization for the people with the highest IQs, and had been horrified to discover that they had interest groups for astrology, ESP, and other phenomena that we may sum up with the beloved term "woo-woo." He couldn't believe that some of the smartest people in the country could believe in such stuff.
So — long story short — he decided to dedicate the rest of his life to combating the spooky crowd.
He carried at all times a check for ten thousand dollars which was on offer to anyone who could perform a paranormal feat — including mind-reading, dowsing, spoon-bending, etc — under controlled conditions.
The check was a brilliant device. Randi was putting his money where his mouth was, and forcing the purveyors of woo-woo to answer the question: if you can do all the stuff you say you can do, why don't you take the man's money and shut him up?
But nobody did. (Now, as the magicians would say, keep your eye on that check. We'll come back to it.)
Randi gets academic
The main thing Randi talked about that night was Project Alpha. I'll summarize but you can read more here and here. Washington University in St. Louis, MO, had received half a million dollars to investigate paranormal phenomena. They decided to examine children and teenagers with telekinetic powers (i.e. spoon-benders).
Randi sent them an unsolicited list of helpful suggestions for dealing with human subjects. After all, test tubes don't lie and rats don't cheat, but people will try both. One of his suggestions was to have a professional conjurer on hand, since they are the experts on slight of hand. He even volunteered to participate.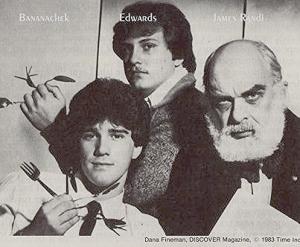 Well, the experimenters decided they could get along without Randi. And they did. They found two star subjects, young men who could do remarkable things. And after they introduced them at a psychology conference Randi announced that they were magicians, trained and sent in by him. He also pointed out that if the experimenters had followed his list of suggestions, the boys would have been promptly caught.
As you can imagine, a lot of people were furious. Because of Randi, the half million dollars had been wasted! Randi replied that, since the tests had been proven unable to distinguish between real and phony psychics, the money would have been wasted in any circumstances.
A million on the line
Randi now heads the James Randi Educational Foundation. And remember that check for ten grand? Thanks to some anonymous donors it grew to a million dollars and has been on offer for almost ten years now. Randi has announced he is retiring the challenge as of next year because dealing with the type of people who think they can win by talking to the stars or predicting events that will happen next millennium (try to test that) is just too much trouble. So if you want to try for the money, sign up soon.
I want to end by going back to that night at Bouchercon. During the question period an audience member asked rather indignantly: "How do we know you aren't using psychic powers to do those tricks we just saw?"
"You have to decide for yourself," Randi told her. "Which is more likely: that I could violate the laws of thermodynamics, or that I could fool you?"
I know he can fool me.