CHILD'S PLAY CRIMES
by Deborah Elliott-Upton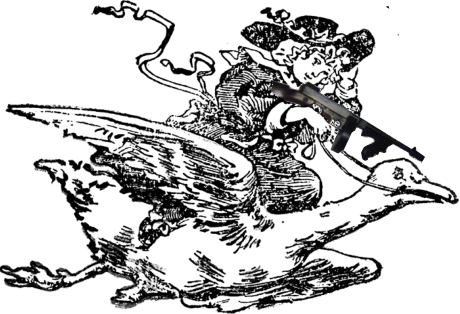 Peter, Peter Pumpkin Eater

Peter, Peter Pumpkin Eater
Had a wife and couldn't keep her
He put her in a pumpkin shell
And there he kept her very well.
It seems Peter is at the very least guilty of imprisonment, and perhaps starving his wife – unless she is able to nibble on the inside walls a bit from what he left after his meals.
Georgie Porgie

Georgie Porgie, puddin' and pie,
Kissed the girls and made them cry.
When the boys came out to play,
Georgie Porgie ran away.
Today would Georgie be arrested for forcing romantic attentions on a child?
Three Blind Mice

Three blind mice, three blind mice,
See how they run!
They all ran after a farmer's wife,
Who cut off their tails with a carving knife.
Did you ever see such a sight in your life,
As three blind mice?
Peta would be all over this case.
Ice Cream, a Penny a Lump

Ice cream, a penny a lump!
The more you eat, the more you jump.
Eeper, Weeper, Chimney sweeper,
Married a wife and could not keep her.
Married another, Did not love her,
Up the chimney he did shove her.
Bigamy and then murder of the second wife? Maybe there was something else in that ice cream. That's where I'd begin a defense.
Taffy was a Welshman


Taffy was a Welshman,
Taffy was a thief;
Taffy came to my house
And stole a piece of beef.

I went to Taffy's house,
Taffy was not home;
Taffy came to my house
And stole a mutton bone.

I went to Taffy's house,
Taffy was not in;
Taffy came to my house
And stole a silver pin.

I went to Taffy's house,
Taffy was in bed;
I took up a poker
And threw it at his head.
Robbery on Taffy's part and at least a case of attempted murder for his victim against him.
I'd never considered Mother Goose such an example of crimes until I recently was reading to a small child I was babysitting for a friend. Maybe you haven't either.
So, if we're reading these stories to small children, as countless generations have done before us, are we expecting our little ones to snuggle into soft blankets and sleep soundly, with vivid dreams? Do we expect them to commit the crimes which we lulled them to sleep? Surely not, and most children don't become criminals, but what are we putting into their heads? Others may take aim at violent video games, too much action in action films and horror in the currently popular vampire books as inspiration for crimes younger and younger children are committing. My opinion is it depends on the child and how the parent or guardian is delivering these messages to their children. One of my favorite shows to watch with my children was "Are You Afraid of the Dark?" —but they were older and we watched them together and talked about the programs afterward. I wouldn't have allowed them to watch anything they weren't prepared for intellectually. My parents probably never gave it a thought. TV was a babysitter, but then, there also was a censor watching closely. (Good for my parents as I loved television so much my dad never looked at the program guide, but asked me what was on next.)
I do worry about our youth being exposed to so much explicitness on the screen and in books at earlier and earlier ages. I think that makes us as parents, writers and those who purchase reading material for our family members more responsible than ever. Maybe we should take another look at what our children are reading.