FROM THE HORSE'S MOUTH
by John M. Floyd
"Chapter Four . . . "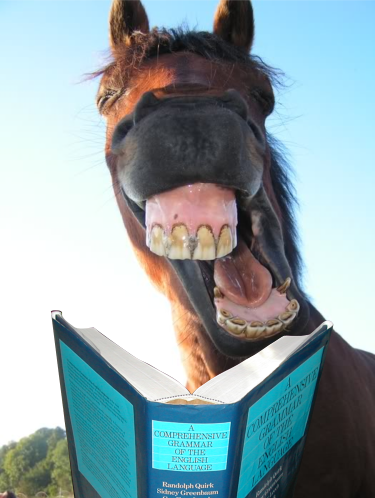 Plenty has been said at this blog, by me and by others as well, on the subject of writing and writings, and also on the subject of reading. But not much has been said about readings.
I've been to a lot of author readings, usually those that follow signings, and I always have a good time. I get to meet the writer, I buy a book, I see friends there, and I enjoy much of what the author has to say in the presentation. What I don't usually enjoy is the reading itself. In other words, I don't much like, and never have liked, hearing an author read from his or her own work. There — I admit it.
I have two reasons for this. One is because, as I mentioned, the reading often follows a signing, and I've usually already bought the book at the signing. So here I am, sitting in a room with a newly purchased book that I'm looking forward to taking home and starting. Why, at this point, would I want to listen to the author read from it? Besides, some of them read for twenty minutes or more. Sweet jumpin' Jiminy.
My second reason probably isn't any more convincing than the first, but here it is anyway: Unlike the dialogue in plays and screenplays, novels and short stories were not written to be presented aloud. That wasn't the intention, and the words don't have the same flow — or impact — when they're read by the eye and when they're heard by the ear. I just don't think prose was meant to be performed on stage, like a song.
I don't even like to hear myself read aloud from my own work. I've done it lots of times, and I've even been told afterward that I did a good job (okay, okay, it was my wife who told me that, but still). I just don't find it pleasant. Maybe if I had a more expressive and melodious voice . . .
Here's what I do like: I enjoy hearing authors read for a couple minutes if they feel they must, then address questions from the audience, or maybe share information about the writing of the book or the writing process itself. Lawrence Block did that, when I attended one of his signings/readings, and Elmore Leonard and Greg Iles and Carolyn Haines and Michael Connelly and Dennis Lehane too. Several of them didn't read at all — they just had a relaxed conversation with the audience. Hey, if folks of that stature think it's a good idea, it must be a good idea. I've even been told by regular folks who are not themselves writers that they too enjoy this kind of presentation — or discussion, actually — more than just a reading. Everybody likes to sneak a look behind the scenes.
I realize I'm probably in the minority here. What's your opinion on the subject?
Boy, I'm glad I'm not reading this column out loud . . .