STICKS 'n' STONES
by Leigh Lundin
This week, we thank the governor of California, Arnold Schwarzenegger, for today's column. English may not be his first language, but he has no trouble sneaking four letter words, specifically the ƒ-word, into an official message to the State Assembly. For a larger view, click on the snapshot below or read a full-size PDF of the original memo.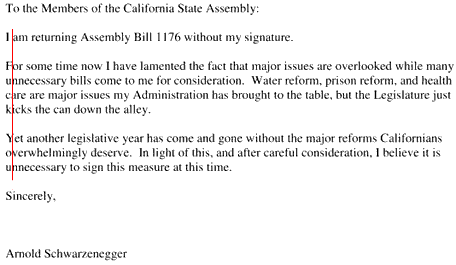 In the weeks leading up to this event, the governor had reason to be irritated. San Francisco Democrats treated him shabbily at a dinner, one shouting "You lie," aping Congressman Joe Wilson's abominable words. (For those just tuning in, I take every equal opportunity to offend both political parties as much as they offend me.) Assemblyman Tom Ammiano told Schwarzenegger "Kiss my gay ass."
Schwarzenegger managed to keep the fixed smile he's famous for, but apparently the insults stuck, which brought about crafting a memo when time could have been better spent. In vetoing a non-controversial bill regarding San Francisco Bay development, Arnold sent back a message within a message, ƒ you. (Again, for those tuning in, we ran an article on that word, too.)
Apparently, no one in California is above bad behavior. The most amazing take came from Schwarzenegger's spokesman Aaron McLear, who said "My goodness. What a coincidence!" Unfortunately, our Velma took umbrage when asked to track down the governor's note to the Assembly.
M E M O   F R O M   V E L M A

Fans of CB asked me to look
up Governor Schwarzenegger's
controversial memo many of you
know about. I'm offended.

My feelings about this seem
exasperatingly unimportant.

                – Velma
Word Play
On to less controversial word play. Amaze your friends and fool your Scrabble opponents. Name words commonly found in English dictionaries that contain no vowels. The letter Y does not count.
Rule:

James can't play. With his super-powerful vocabulary and new super-powerful OED dictionary he has to officiate. (Rumors I'm envious of his new dictionary are totally false.)
Did I mention the letter Y does not count?

Hint:

Fiction dominates in the use of many of these words.