REEL MEN, WOMEN REEL, REEL WRITERS
by Melodie Johnson Howe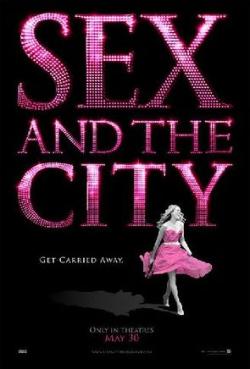 I went to see Sex and the City the other night with my girlfriends. Oh, God, where do I begin? There were parts of the movie I loved, including the satirical scene with a naked man who was too gorgeous; and the camera lingering lovingly over every inch of his naked body. Samantha lying naked on her dining room table with homemade sushi placed strategically on certain parts of her body, waiting for her boyfriend to come home. Of course he's late. Men!
Samantha wearing a virgin white fur coat when an animal activist with a mean, knotted face throws red paint on it. There is a moment of shock and violation, then Samantha grins and says, "God, I love New York." There are others but they are few and far between. But what really bothered me was that I didn't like the shoes. I was so disappointed. They weren't that great for this gumshoe. The heels were so high that the women walked like geishas on stilts.
What was interesting to me was that the two men, Mr. Big and Amanda's husband (can't think of his name), come off with more depth of feeling than any of the women. Now this isn't easy in a movie that is as about as deep as the Los Angeles River. What is important about the movie is the theme of female friendship that it does capture in its silly way.
I was personally amused by Carrie Bradshaw the writer. In between the wearing of Manolo Blahniks, gowns by the latest designers, and losing Mr. Big at the altar, she manages (true writer that she is) to get her thoughts on paper (or at least onto her cute little laptop) and then sell them in a book.
The camera lingers lovingly on her as she ponders, poetically, staring out the window; and then in a burst of shallowness where all ideas are equal she taps at her keys. This really made me laugh. It also made me think about how Hollywood depicts writers.
The best depiction that I can remember off the top of my head is Dick Powell in The Bad and the Beautiful. (One of my favorite movies.) The Dick Powell section of the movie starts with his voice over saying "And so I began to write." (paraphrasing.) This refrain runs throughout, giving his character a bitter sweetness. I never doubted he was a writer.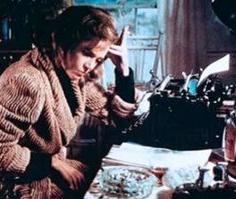 I fondly remember Jane Fonda, playing Lillian Hellman, throwing the typewriter out the window in the movie Julia. And Frederic Forrest in Hammett sitting in his undershirt in a dingy hotel room writing. There is a wonderful old black and white film Boy Meets Girl with James Cagney and Merle Oberon about two Hollywood screenwriters. This movie is a must see. The comedy and dialogue are brilliant. Diane Keaton played a playwright for comedic laughs in one film. My daughter said that she was reminded of me. (What did she mean?) I think playwrights and screenwriters fair better in film. The work is collaborative and visual.
The poor lonely author has yet to be captured on film. Staring out a window is not a rule of writing. Staring at a blank wall might be. The sad thing is that because of the computer, Hollywood can't have the actor/writer tear up paper and throw it in on the floor to show how difficult it is to create. So the audience is stuck with the writer staring out the window. All these women are beautifully dressed when they write, or they are in sexy underwear. Alas we lone writers are just not visual enough!
Well, this column is over. I'm through staring out the window while looking lush and gorgeous. Now I stand up from my desk and teeter slightly in my six inch heels and go off and to conduct a workshop for the Santa Barbara Writers Conference. And my sexy underwear? Fiction.