BANDERSNATCH IN THE RAIN
by Steven Steinbock
Time for another break from my rundown of favorite mystery anthologies. I'll be back next week with two more mystery collections to critique. But for now, some thoughts on short-shorts. (No, not hot-pants). Short stories that are really short, also known as "flash fiction." Stories that run a thousand words or less. As a kid I read a lot of Donald Sobol's books. In addition to the "Encyclopedia Brown" series, he did several "Two-Minute Mystery" collections. Around that time I discovered the brief tales of Saki (H.H. Munro).
Short-shorts of the mystery and detective persuasion are usually puzzle tales with the key clue hidden in plain sight within the short narrative. But in – and beyond – the realm of crime fiction there is another kind of short-short: what I like to think of as vignettes with punch-lines. These aren't jokes, per se, but they pack a punch. Some are subtle, and others shift your paradigm so fast you have to change your pants.
My favorite short-short is not a mystery at all. At least not the kind of mystery with crimes and detectives. It's an old, possibly even ancient Sufi tale featuring the wise fool, Nasrudin.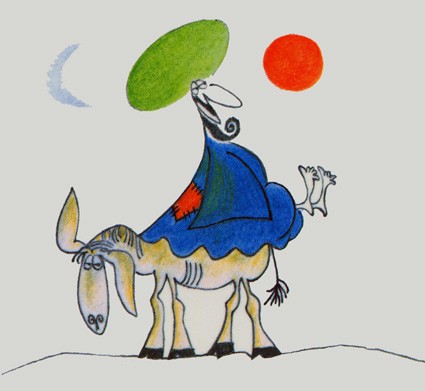 Originating somewhere around Turkey, Afghanistan, or Persia, Nasrudin is a character featured in hundreds of itty-bitty stories that are as much jokes as they are lessons. This simple-minded, empty-headed, donkey-riding fool cuts through the dung-heap of intellect to get to the very heart of the matter, whatever the matter happens to be. He's part jester, part idiot, part trickster, and all oxymoron.
Last week I celebrated my third retirement from teaching. Back in 1991, I retired the first time when we moved to Maine and I got a contract to write a book. My own kids came along around the time of the first book, and I was a stay-at-home dad for almost a decade. Then a need in the community came up and I got talked into taking it. After two years I retired again. The second and third books came out around then. (The books, by the way, aren't mysteries. They're not even fiction. But that's another story). My next teaching position came along when the small private parochial school my younger son was attending needed a Hebrew teacher. Maine doesn't have a whole lot of qualified Hebrew teachers, so after a bit of arm twisting, I took the job. My writing suffered. But more significantly, my brain began to hurt from the kvetching of the kids. (Kids don't have to attend a Jewish school to kvetch. But at a Jewish school you usually don't have to explain the word "kvetch"). They don't like homework. They don't like listening. They can't be bothered helping or sharing with their classmates. Most of all, they don't like being bored, and nearly everything that can't be played on a game-console is boring.
Whenever I get an earful of complaints, I stop what I'm doing and ask the culprit, "And what are you contributing to the problem of keeping dry?"
That response usually stops them in their tracks, either because they've heard the story before, or they're baffled by my non sequitur. It's like when one of my own kids is sitting just ten feet from the refrigerator complaining that he's thirsty. "God gave you legs," I tell him. "Now get off your butt and get your own milk!" Why kvetch when the solution is within your own powers?
Here's the story:
The Mulla Nasrudin was invited to the hunting lodge of a wealthy landowner. When they set out to hunt, the host climbed on his grand Arabian stallion, gave horses to the other members of the hunting party, but left Nasrudin to lag behind on an old lame horse. Soon, the wealthy man's horse had outpaced Nasrudin's and they lost sight of each other. It began to rain. Nasrudin climbed off his nag, took off all his clothes, tucked his garments safely under the saddle, and climbed back onto the horse. When he arrived back at the hunting lodge, the rain had just stopped, so he put his clothes back on and entered. The host and the other guests were soaked to the skin. Stunned at how Nasrudin stayed dry, the men all asked why their fast horses couldn't dodge the rain.
"It must be the horse you gave me," explained Nasrudin.
The following day, the devious host gave his own stallion to Nasrudin to ride, and took the old nag for himself. Again the skies opened up and a downpour began. Again, Nasrudin stripped off his clothes, stuffed them under the saddle, and rode on until lunchtime when he returned to the lodge, dry and happy.
The host was shivering from the dampness and cold, even more wet than he'd been the day before. Furious, he shouted at Nasrudin, "YOU made me ride this terrible horse, and not LOOK at me. My robes, my hair, and my cold. It's all YOU'RE fault."
Nasrudin surveyed the situation and responded, "And what are you contributing to the problem of keeping dry?"
That's the story. I've finished my column. It's stopped raining. Now I can put my clothes back on.