LIFE IS SHORT. ART IS LONG.
by Rob Lopresti
Two weeks ago I wrote about a judge who died back in the 1920s and ended by saying that "Thanks to the wonders of the written word and the World Wide Web we can still read his thoughts and deeds eighty years later."
If I seemed to be waxing rhapsodic (i.e. getting cheesy) about the power of the written word it is because I just finished an excellent book called The Day They Severed Earth From Sky. The authors, Elizabeth Wayland Barber & Paul T. Barber, argue that preliterate societies used mythology as a way to preserve and pass on important information.
Our ancestors had to come up with some such system because a society without literacy only knows what it's members can remember. That's a very powerful limit and explains why the invention of writing allowed the learning curve of the human race to turn vertical and, literally, head into the sky.
And speaking of the sky, the week before that I listed books I saw people reading on an airplane. I didn't mention that I was the one reading that book, but Dick Stodghill commented that "The ultimate optimist was the person reading 'When They Severed Earth From Sky' while flying 30,000 feet above the ground."
It was typical of Dick to look at what everyone else had seen – in this case, a book title – and spot something no one else had noticed. You could even say that that is the artist's job description: to invite us to see the common world with new eyes.
Dick was one of the most loyal readers at this blog, and a terrific author of short stories. He died a week ago and I'm still bummed to realize that I will never get to meet the man in person. I treasure the emails and blog comments we exchanged.
And by the way, if you haven't examined his own blog, here are links to a few of my favorite recent entries.
How to win friends and influence people
How the government handles health care.
He missed the lesson on giving up
Dick could be angry, funny, cynical, or even sentimental. Dull, however, seemed to be beyond his authorial range. You can buy his books on Amazon or, like I just did, order them from your local bookstore.
Dick is gone but his words, those wonderful written words, have been digitized and therefore may stay available if civilization survives. He did his part to keep the world going in the right direction, especially in some nasty parts of Normandy in 1944. Maybe each of us can find a modest way to do the same.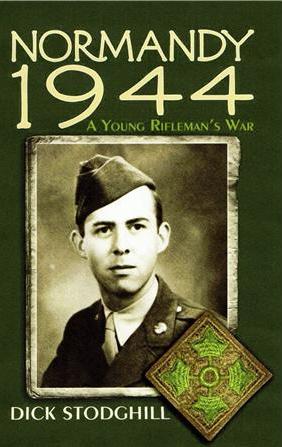 And read a short story today. He'd like that.