GROUP THERAPY
by John M. Floyd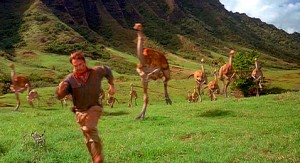 One of the things I remember from "Jurassic Park" was Sam Neill watching the dinosaurs from a distance and saying, "They do move in herds." Well, so do we. Not many of us humans enjoy being alone too often — it's more fun to band together. Especially with others who share the same interests.
Take writers, for example. Dreaming up stories and putting them on paper is a lonely task, and it makes sense that writers enjoy clumping together now and then and sharing ideas and experiences. Readers do too, for that matter. Readers' groups, usually called "book clubs" instead, are probably at least as numerous as writers' groups — and I've attended some of both, over the past few years.
I'm currently a member of the Southern Writers' Group, which meets twice a month at a local library. Not a very original name, but it's appropriate: we're Southern, we're writers, and we're a group. As for my being a member, I'm actually more of an attendee. We don't have members as such because we're not that organized: we have no officers, no dues, etc. We like it that way. We're just a bunch of friends who happen to be writers, or writers who happen to be friends. But we've been meeting for a long time now, so I guess we're doing something right.
The odd thing is, we're a writers' group but not a "critique group." Attendees are free to bring samples of their writing, either finished or in progress, and read them to the others in the group, but it's not a requirement, and doesn't even happen that often. Mostly we just get together and talk about anything involving writing and/or publishing, and share news and market info and success (or failure) stories. I guess we're more of a "support group," as if we all suffer from the same disease. Which, in a way, we do.
The group includes both published and unpublished writers, and folks who do almost every kind of writing: essays, novels, columns, children's books, poems, screenplays, textbooks, articles, devotionals, memoirs, cookbooks, short stories, songs, how-to books, etc. One of the good things about our meetings is that I usually learn more about not only my area of expertise but others' as well.
The readers' group that I attend once a month (actually about four or five times a year is more like it, for me) is fun also, because it focuses on mysteries. It'll probably come as no surprise to anyone that most of the attendees of this group are ladies, because — let's face it — most readers are ladies. And they're truly mystery buffs. I had thought I read a lot of mystery/suspense until I met these folks, some of whom read a couple of books a week. Years ago we had a "leader" who read a dozen or so mysteries each month (I'm serious, a dozen), made detailed notes, and gave us synopses of these books so we could decide whether to read them ourselves. Lately the leader is more of a facilitator, and has each attendee tell the others about whatever mysteries he or she happened to read recently. The end result is the same: we all learn more about what's available and — most importantly — what's good and what's not.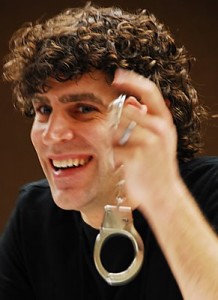 It's also a great place to find out about new authors. I was introduced there to the novels of Marcus Sakey, Harlan Coben, Janet Evanovich, Robert Crais, and many others. (Coben, Evanovich, and Crais have been around awhile now, but if you've not heard of Sakey, I encourage you to give him a try. He's written only two novels, The Blade Itself and At the City's Edge, but both are excellent.)
My point is, if you're a writer or a reader — and I know some of you are both — consider joining an existing group, or organizing one yourself. Believe me, the hours you spend in the company of those who share your love for reading and/or writing is time well spent. I look forward to every meeting, and always leave feeling more knowledgeable and more inspired.
Let me ask you something. Do you ever attend a readers' or writers' group? If not, why? Would you, if one was available? If you do attend, what kind of group is it? Critique? Discussion? How often do you meet? Do you find it worthwhile?
I'll close with this picture: Imagine several of your non-reader friends, sitting on a distant hilltop, watching a group of intense-looking writers or readers filing into a meeting room. One of the observers lowers his binoculars and turns to the others with an intrigued look on his face and says, "They do move in herds."