Melodie has taken the week off. In her place, thanks to the good offices of our own "A.D.D. Detective," Leigh Lundin, we welcome the talented Hal White, waxing eloquent on a subject near and dear to him, and to us all.

Hal has been practicing law in the State of Washington since 1984, and for several years was editor of the Washington State Bar News, the Washington State Bar Association's official publication. His interest in editing evolved into an interest in writing fiction (although from the following you may perceive he has long been a mystery reader), which ultimately led to his collection of short stories, The Mysteries of Reverend Dean, available from Lighthouse Publishing.

Big round of applause, readers! —JLW
LOCKED ROOM MYSTERY SHORT STORIES



by Hal White
I've loved locked-room mysteries since, well, as long as I've loved mysteries. So when Leigh asked if I'd write an article discussing some of the best locked-room mystery anthologies, I was more than happy to do so. In fact, it's particularly appropriate to write this for Criminal Brief, since I've always believed the best way to tell such a story was not in a novel, but in a short story. After the impossible elements of a story have been set up, the last thing I want to do is wade through 300 additional pages to find the solution. It's like sitting in a restaurant, eating an appetizer, then waiting three hours for the main course.
But I may be getting ahead of myself. Although most readers of Criminal Brief know what a locked-room mystery is, it still might be helpful to define the term. To quote Mike Ashley from his introduction to Locked-Room Mysteries and Impossible Crimes, they "are as much 'howdunits' as 'whodunits.'" A classic example is a solitary person found shot in a room–doors and windows locked from the inside–with no trace of a gun. The reader knows the victim was murdered, but how was it done? That's the essence of a "locked room" mystery. I've used murder as an example because that's the mainstay of most mysteries, but a locked-room puzzle can involve a theft or battery as easily as a homicide. That's one of the delights of this sub-genre. Indeed, I believe locked-room mysteries are twice as fun as regular mysteries, because you not only have to guess who committed the crime, but how it was done.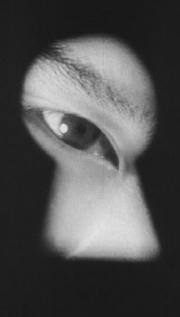 Although most people will agree with my definition so far, there are some who insist that the "room" be, well … a room. I've never been so literal with this sub-genre. In my opinion, a room can be as small as a coffin, or as large as a continent. Don't believe me? Read "The Problem of the Crowded Cemetery" for an example of the former, or "Ice Elation" for perhaps the only example of the latter; both featured in the above book.
I might add that although a locked-room mystery is an "impossible crime," an impossible crime is not necessarily a locked-room mystery. For example, in one of the Banacek episodes (described below), a freight car in the middle of a train vanishes while the train is moving. This is a classic impossible crime (and an excellent episode), but it has nothing to do with a locked room. Nevertheless, in spite of its more limited definition, the phrase "locked-room mystery" (or murder) is often used to encompass this whole sub-genre. As a result, many of the books I'll mention below include not only locked-room murders, but impossible crimes of all stripes.
Except for the first book (which is in a class by itself), the following list is limited to what I think are the best locked-room short-story anthologies published in the last 40 years. The fact that I can somewhat easily compile this list is a sad commentary on the dearth of such collections. Nonetheless, a handful is better than none, and although many are out of print, each is worth finding and reading. Of course, any such list is both limited and subjective. My goal, however, is not to provide an exhaustive catalog–fans already know what they like–but to provide a list for new readers as they explore the wonderful world of locked-room mysteries.
This criterion also explains the rather limited selection of entries by John Dickson Carr. As most mystery-lovers know, Carr is considered the master of locked-room mysteries, and I'll gladly concede the point. He wrote such stories prolifically and well. However, since this list focuses on short stories, by definition that excludes most of Carr's repertoire.
Speaking of notable names in locked-room fiction, I'd also like to give a tip of the hat to G. K. Chesterton. Although his "Father Brown" stories feature several impossible crimes, read as a whole I felt they were too uneven to include in this list. To Chesterton's many admirers, I humbly ask that you sheathe your swords. Not only am I a fan–of his fiction as well as other works–but my own Reverend Dean was in part inspired by the good Father. Indeed, everyone should read the Father Brown canon at least once. But in my purely subjective opinion, the Father Brown collections aren't as entertaining as the following anthologies.
Finally, no discussion of short story collections should be made without mentioning Crippen & Landru. This publishing house is managed by Doug Greene (co-editor of Death Locked In and the Carr collections, below), and–as I'm sure most readers know–specializes in compiling short-story mysteries; frequently never-before-collected stories originally written several decades ago. Without the efforts of Crippen & Landru, these forgotten gems would be lost forever. Although I've omitted the publishers of most of the following books–because such information is rarely needed to locate or identify a title–I've noted the Crippen & Landru books because most are still in print, and because the efforts of this publisher should be supported whenever possible. It's no coincidence that the link to Crippen & Landru is at the top of the Links page of halwhitebooks.com.
Just as the links in my site are in no order except for the first entry, the following list is in no order with the exception of the first book. Forever may Bob Adey's labor of love stay atop the list of every locked-room mystery fan. Having said that, I offer one fan's opinion of the best English-language locked-room mystery anthologies:
Locked Room Murders, by Robert Adey. Although it's my loss that I haven't met most of the editors or authors on this list, I have had the privilege of corresponding with Bob, and he is as much a gentleman as anyone is likely to find. Moreover, he has literally "written the book" on locked-room crimes. In this unique volume, Bob lists virtually every impossible-crime novel and short story ever published as of 1991. In the first section of his book he provides the author, title and summary of the impossible crime. In the latter half he explains how each seemingly impossible crime was committed. Thus, it's a bibliography, rather than a collection of stories, but it's essential reading for any locked-room fan. There are two editions of this book, one written in 1979, and an updated version published in 1991.
Death Locked In, edited by Douglas G. Greene and Robert C.S. Adey. What these two gentlemen don't know about locked-room mysteries probably isn't worth knowing.
Murder Impossible, edited by Jack Adrian and Robert Adey. Outside the U.S. this anthology is titled The Art of the Impossible.
The Mammoth Book of Perfect Crimes and Impossible Mysteries, and The Mammoth Book of Locked-Room Mysteries and Impossible Crimes, both edited by Mike Ashley. These two "Mammoth" collections are readily available and among the best modern impossible-crime collections.
Diagnosis: Impossible, and More Things Impossible: The Second Casebook of Dr. Sam Hawthorne, both by Edward D. Hoch (Crippen & Landru). Just as Carr was the master of the locked-room novel, Hoch was the master of the locked-room short story. His recent passing was a tragedy to mystery fans everywhere. These two books–each containing stories of a small-town doctor who diagnoses diseases and locked-room mysteries with equal aplomb–are truly delightful collections.
The Night of the Wolf, by Paul Halter (with a foreword by Robert Adey, an introduction by Roland Lacourbe and translated by John Pugmire). It's hard to imagine a quartet with greater locked-room credentials. Unfortunately, this is the only book by "Europe's John Dickson Carr" that has been published in English.
Banner Deadlines, by Joseph Commings (Crippen & Landru).
The Complete Curious Mr. Tarrant, by C. Daly King (Crippen & Landru).
Carpenter and Quincannon, by Bill Pronzini (Crippen & Landru). Not every story features an impossible crime, but all are well written and enjoyable. As good as the author's "Nameless" series is, these stories are far better. Moreover, Pronzini clearly did his research when writing for this time period (the 1890s). Having said that, it's tiresome to endure John Quincannon's constant pining for Sabina Carpenter every story. Marry them, Bill; or at least give Quincannon some hope!
Locked Room Puzzles, edited by Martin Greenberg and Bill Pronzini. This small paperback contains four stories; one each by Carr, Pronzini, Hoch and Clayton Rawson.
The Sleuth of Baghdad, by Charles B. Child (Crippen & Landru).
Merrivale, March and Murder; Fell and Foul Play; and The Door to Doom, all by John Dickson Carr. Only as I was compiling this list for my website did I notice that all three volumes were edited by Doug Greene. But I suppose that's as it should be, since these books painstakingly collect all of Carr's short stories; a task far beyond the scope of most readers, but a role Doug continued for other authors when he created Crippen & Landru.
All But Impossible!, edited by Edward D. Hoch. As a bonus to its 20 stories, in the Introduction Hoch lists the results of a poll among locked-room experts in which he asks them to select the best 15 locked-room novels ever written. (The winner, unsurprisingly, was Carr's The Three Coffins.) A link to a greatly expanded version of this poll–together with excellent color photos of dust jackets–can be found in the Links page of halwhitebooks.com.
Jacques Futrelle's "The Thinking Machine", by Jacques Futrelle. Jacques Futrelle's life ended tragically on the Titanic, but not before he left behind these stories featuring Professor Augustus Van Dusen, aka "The Thinking Machine." Harlan Ellison edited and provided the introduction to this collection.
The Locked Room Reader, edited by Hans S. Santesson. This 16-story hardcover collection was later released as two paperbacks, 8 Keys to Murder and 8 Doors to Death.
Beware of the Trains, by Edmund Crispin. Unfortunately the first (and titular) story is the worst entry of this collection; it also has so much British slang as to occasionally be indecipherable to American readers. However, if you can get past the lead story, the remainder of this book is a fun read. The author (in reality composer Bruce Montgomery), wrote locked-room novels as well, including The Moving Toyshop, one of P.D. James' top-five favorite mystery novels.
Tantalizing Locked Room Mysteries, edited by Isaac Asimov, Charles G. Waugh and Martin Harry Greenberg. This includes stories by many notable authors, including Bill Pronzini, who is described as "a good young mystery writer."
The Kindaichi Case Files, written by Yozaburo Kanari and drawn by Fumiya Sato. This is a series of manga compilations–black & white, digest-sized, Japanese graphic novels–and so far 17 volumes have been translated into English. Each story features some type of impossible crime. Don't be deterred by the format; these stories can be complex, and in Japan manga is read as much by adults as by children. Links to the publisher, a Wikipedia article, and a discussion group can be found in my site.
Because services like Netflix have made renting older and/or British TV shows readily available to Americans, I'll also mention two outstanding TV series:
Jonathan Creek was a BBC TV mystery series which began in 1997 and lasted four seasons and two Christmas Specials. Each one-hour episode featured an impossible crime. Although it's difficult to recall a series in which the male and female leads shared less chemistry, the mysteries were typically first-rate, and it's well worth the expense to buy or rent the DVDs. According to Wikipedia, the male lead was offered to, but ultimately rejected by, Hugh Laurie; who later went on to star in the FOX TV series, House. According to an excellent but unofficial website for this series, a Jonathan Creek Special is in the works.
Banacek, starring George Peppard, ran on NBC for 17 episodes, from 1972-74. Every episode featured some type of impossible crime. To date, it's probably the best such series to appear on television.
Finally, I should mention that there are links to online locked-room short stories in the Links page of my website (halwhitebooks.com), as well as links to discussion groups and other sites discussing locked-room mysteries. I'd enjoy receiving email from anyone who has suggestions for additional anthologies, TV shows, movies, online stories or websites. More importantly, I'd like to thank Leigh for allowing me to submit this article, and for his always-interesting blog.