THE TASTE OF QUEENS
by Steve Steinbock
The turkey is in the oven, and I've been enjoying the Thanksgiving thoughts of my colleagues Rob Lopresti and Deborah Elliott-Upton. Being in a festive mood, I'd considered doing a Thanksgiving-themed column as well. But by the time this column goes up, the turkey, cranberries, yams and stuffing will be half-digested, and every mall in the US will be packed with shoppers.
I've been researching an article about Chesterton's "Father Brown," so several reference books have been following me wherever I go. My favorite — at least at the moment — is Julian Symons's Bloody Murder: From the Detective Story to the Crime Novel. It's a good, thoughtful, and fairly thorough (considering its length) history of the genre. If I deal with that book within the pages of Criminal Brief it will not be in this column.
Instead I thought I'd mention a few words about a few volumes by Ellery Queen. (I believe that all three of these books were edited primarily by Fred Dannay, who as most of you already know was one-half of the writing team of Ellery Queen and who handled most of the anthology and magazine-editing done under that name).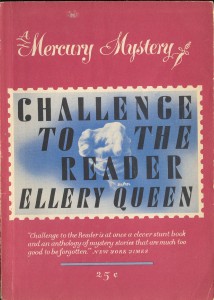 Challenge to the Reader (Frederick A. Stokes Company,1938) is a truly unusual collection. It features twenty-five stories by well known mystery authors including Arthur Conan Doyle, Margery Allingham, G.K. Chesterton, and Agatha Christie. What made it unique is that the editor changed the name of the author and the main character of each story, and challenged the reader to guess what they were reading before coming to an end. It's an amusing challenge. Some of the stories are pretty obvious from the start. In the end, however, even though the book is an interesting novelty, I'd rather read the stories in their original states.
Next is The Literature of Crime: Stories by World-Famous Authors (Little, Brown, 1950 — published in the UK as Ellery Queen's Book of Mystery Stories by 25 Famous Authors). By its very existence, this anthology tells us something rather important about the literary philosophy of Fred Dannay and Manfred Lee. Dannay and Lee frequently felt that they had to justify crime and detective fiction — even to themselves and to each other. It was a unfortunate and complex attitude born from the condescending attitudes of the literary elite, and partly, I think, out of their own sense of literary inferiority. Anyhow, in The Literature of Crime, Queen gathered together twenty-five stories by C.S. Forester, Mark Twain, Willa Cather, Charles Dickens, Steinbeck, Faulkner, and Hemingway. Along with famous writers already known for their contributions to detective fiction (Maugham, Stevenson, Runyan) Queen included stories by Pearl Buck, Edna St. Vincent Millay, and Rudyard Kipling. Anticipating Rob Lopresti, Queen included Thurber's "The Catbird Seat." Even included was one of my father's favorite short stories, "The Giaconda Smile" by Aldous Huxley. A really nice collection of really good stories, but I have to wonder why we live in a world in which these stories, because of their authors, had to be segregated from the likes of Christie and Chandler, Allingham and Ambler.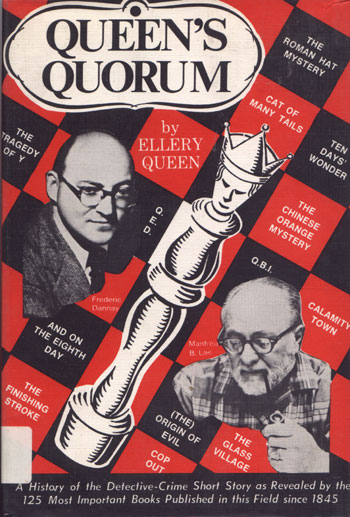 Last book is Queen's Quorum, a history of the mystery short story that probably deserves a history in itself. My edition is Biblio and Tannen, 1969, and contains 125 entries. I believe the original had 100 entries, and the author's note in my edition makes reference to 106 entries. Queen's Quorum is not an anthology at all. Rather, it traces the "history of the Detective-Crime Short Story as revealed by the . . . most important books published in this field since 1845". Barry Zeman wrote several columns about it here at Criminal Brief (you can read them here, here, here, and here). This is a short, straightforward, and at the same time clever outline of the history that should be the starting point for anyone serious about mystery short stories, and is especially aimed at people interested in collecting the best single-author anthologies.
So that's my long-winded column for the week. The turkey smells good, and my stomach is growling. Have a great weekend.