SHERLOCK HOLMES vs THE FAIRIES
by Rob Lopresti
(This is my vacation, sort of. I am recycling a column that appeared in MURDEROUS INTENT MYSTERY MAGAZINE in 1997. I hope you can cope.)
Playing detective must be one of the biggest temptations for a successful mystery writer. If you can make up puzzles and solve them, why shouldn't you be able to solve them in real life?
We can trace the game all the way back to our founding father. Edgar Allan Poe started the mystery field with three detective stories. The third, "The Mystery of Marie Rogêt," was a thinly disguised speculation on a famous New York murder case.
Over the years many other mystery writers have taken their shot at true crime solving, in their works or in real life. For example, Erle Stanley Gardner, who was both an attorney and the creator of attorney Perry Mason, founded a real but unofficial Court of Last Resort to look into doubtful convictions.
Doyle foils
It is natural that the creator of the most famous detective of all should have gotten involved as well. As soon as Sir Arthur Conan Doyle invented Sherlock Holmes he started receiving mail begging him (or Holmes!) to solve real-life mysteries.
One of his most famous efforts was the George Edalji case. Edalji, an British solicitor of India parentage, was convicted of mutilating a pony. Locals theorized that he had done this bizarre act to make "nocturnal sacrifices to strange gods." By the time Doyle got interested three years later, Edalji had been released from prison on good behavior.
The writer interviewed witnesses, examined the scene of the crime and concluded that Edalji, who had terrible eyesight, could never have walked a mile and a half cross-country on a moonless night, found and mutilated a horse and gotten himself safely home. Doyle also pointed out large flaws in the evidence (alleged horse hair found on Edalji's clothes turned out to be human hair, for example). Sir Arthur's work helped get Edalji reinstated to the bar and, more importantly, led to the establishment of a Court of Criminal Appeals.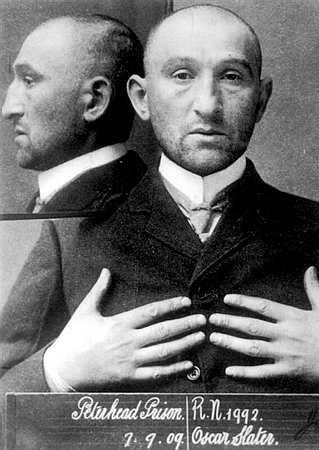 Doyle also helped overturn the murder conviction of Oscar Slater, which seemed to have been based less on evidence than on his being a foreigner and a pimp. "Some of us," Doyle noted, "still retain an old-fashioned prejudice in favor of a man being punished for the crime that he is tried for, and not for the morals of his private life."
The author was not always on the side of the defense. He was the first to identify the culprit in the famous "Brides in the Bath" case.
Getting spooked
Sir Arthur had less luck investigating otherworldly phenomena. He embarrassed his friend Harry Houdini by claiming the great magician used supernatural powers to accomplish his escapes.
Doyle further damaged his reputation with a stout defense of the Cottingley fairies, photos of tiny winged creatures taken by two young girls. Doyle went to great trouble to have the negatives examined for tampering, which was missing the point. These were genuine, untampered, photos of paper cutouts of fairies.
Doyle said he was convinced by the "evidence of transparent honesty and simplicity" of the girls involved. One of those "honest, simple" girls finally confessed to the prank sixty years later. The problem was that the author wanted to believe, and people who want to believe are the easiest to fool.
Doyle's great work with true crime was not as an investigator, but as a publicizer of the facts. Not surprisingly, the writer was most effective when he wrote.