ZAPPED
by John M. Floyd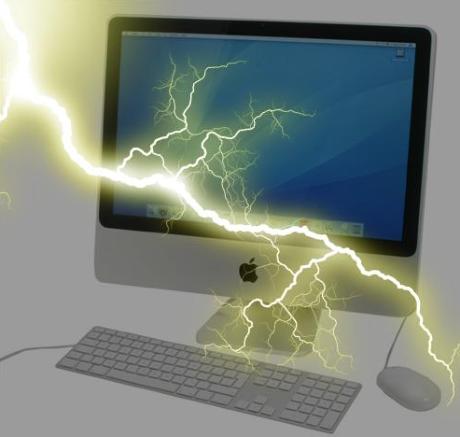 Like Leigh and Rob and JLW, I've had computer problems recently, and was even reduced to typing and sending in my last two columns via my wife's laptop. In my case, though, it was more of a disaster than a problem: my main computer was so ill it was in the repair shop for a total of ten days (!?!).
A baked Apple
What happened was, one of our midsummer pop-up thunderstorms popped up one afternoon a couple weeks ago while I was merrily typing away on a story, and POW, a bolt of lightning dimmed the lamp in my home office and my screen went blank. When I tried to power the computer up again, well, you guessed it: it was dead as a squirrel on the interstate. Turned out the surge protector hadn't protected squat (in all fairness, this was more of a strike than a surge), and the next day I carted my electrocuted iMac in to the local Apple store for a diagnosis.
As luck would have it, repair wasn't an option: my poor machine, as I had suspected, was pretty much DOA. After ordering and trying several different parts (including a power supply), the technicians solemnly laid it to rest and even more solemnly informed me that I needed a new computer, which I purchased a few days ago. The only positive news is that (1) we had household-goods insurance coverage, (2) the replacement machine is a bit more spiffy in terms of graphics and memory, and (3) the folks at the Apple store (none of whom looked older than thirteen or so) were able to successfully retrieve and transfer all the files from my old hard drive to the new one.
Back to the future
So here I am, set up and motoring once again down the information superhighway, no worse off except for the deductible I had to pay the insurance folks. But I must admit to you, I was lost without my computer during that week and a half. I wasn't exactly out of touch with the rest of the world — my iPad allowed me to check and answer my e-mails and to access the Internet — but I sure didn't get a lot of writing done. I have confessed on this blog in the past that I sometimes jot down story ideas on a yellow legal pad, or on whatever happens to be at hand, but I had forgotten just how fond I was of just plopping down in front of the computer and typing a story (or a Criminal Brief column) whenever I wanted to, or whenever one occurred to me. The word processing program I'm familiar with isn't installed on either my wife's laptop or my iPad.
Don't misunderstand; it's not that I don't like writing things down longhand. I sort of enjoy it. What bothers me is having to later enter what I've written into the computer. I can think of few things more boring than transcribing my handwritten narrative into an electronic file. There's no creativity and certainly no fun associated with that, unless maybe you think of it as an opportunity to polish and rewrite your original text. More and more, I've evolved to just typing everything into the computer from scratch, and rewriting onscreen as well — and when that convenience is suddenly unavailable, life is tough. Word processors, like good health, are often taken for granted.
Which brings up a few questions:
For those of you who are writers, do you always write at the computer, or do you write in longhand or on an intermediate device and then transcribe or transfer what you've written? Does it matter how long the story is, or do you do it a certain way regardless? If you create the story onscreen with either a desktop or laptop, do you work from a written (or mental) summary or outline, or do you just sit down and start typing? If you write in longhand, do you use a pen? A pencil? A Sharpie? A crayon? (Just kidding.) If you're not a writer, what method do you think you'd prefer if you were?
I'm guessing that more and more of us are moving to the direct-from-the-brain-to-the-keyboard approach. I'm not saying that's good or bad — but I bet it's a fact. We live in a world that's increasingly online and automated and paperless, and that encompasses work, play, and everything in between.
Okay, Bud, put down that pen and step away from the notepad
I once heard progress described as a train that, when it comes roaring through, will either find you ready to hop on or find you standing in its way and trying to stop it — and since it's coming through no matter what you do, it's better to jump aboard than to get squashed. For writers, computers are no longer an aid, they're a requirement, and I predict that most of us will eventually adapt to using them as not only a vehicle for submitting stories but as part of the creative process.
Meanwhile, I think I'll end this column and switch mine off for a while. I think I heard a rumble of thunder . . .