BOUCHERCON 2010 SHORT STORY PANEL
Posted by James Lincoln Warren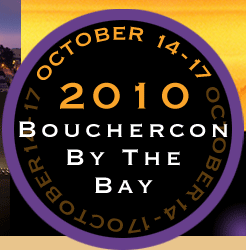 Here's the recording I made of our Bouchercon panel on Friday, October 15, featuring Melodie Johnson Howe, Robert Lopresti, Steve Steinbock, yours truly, Tim Wohlforth, and Angela Zeman, and moderated by Jill Amadio. The title of the panel was "In Case of Madness", which made no sense at all to any of the participants, but we found out at the Anthony Brunch that all the panels were episode titles from the old TV series The Streets of San Francisco. I guess they thought the title was too good not to use even if it had no relevance whatsoever. Well, I'm not going to use the title, because it's misleading, so with laudable originality, I've decided to call it "Bouchercon 2010 Short Story Panel". Snappy, right?
I missed the first question, but that was simply each of us describing our work, which would have been familiar to most Criminal Brief readers. Because my plane back to L.A. was late, I haven't had time to edit in a fade at the ending of the recording before posting it, but I'll get around to that before I link it to our Aural Argument sidebar.
We all had a wonderful time. I'll go into more detail about the convention next week.