PARAPROSDOKIA
by Leigh Lundin
I credit my friend Sharon with rescuing today's column. While I edited another friend's novella, I was debating a couple of dour topics when an eMail popped up with a circulated list of 'paraprosdokians'.
What?
A figure of speech in which the latter part of a sentence or phrase is surprising or unexpected in a way that causes the reader or listener to reframe or reinterpret the first part, frequently used for humorous or dramatic effect, sometimes producing an anticlimax.
Motherlode
Ah, I see. Groucho Marx made a living from wry paraprosdokia and Dorothy Parker was no slouch, e.g,
"Men do make passes at girls who wear glasses… it depends on their frames."
The best of these paraprosdokian thingies come from a handful of famous people:
"He was at his best when the going was good."
— Alistair Cooke on the Duke of Windsor

"There but for the grace of God– goes God."
— Winston Churchill

"If I am reading this graph correctly– I'd be very surprised."
— Stephen Colbert

"You can always count on the Americans to do the right thing– after they have tried everything else."
— Winston Churchill

"If all the girls who attended the Yale prom were laid end to end, I wouldn't be a bit surprised."
—  Dorothy Parker

"I've had a perfectly wonderful evening, but this wasn't it."
— Groucho Marx

"A modest man, who has much to be modest about."
— Winston Churchill

"She looks as though she's been poured into her clothes, and forgot to say 'when'."
— P. G. Wodehouse

"I like going to the park and watching the children run around because they don't know I'm using blanks."
— Emo Phillips

"I haven't slept for two weeks, because that would be too long."
— Mitch Hedberg

"I sleep eight hours a day and at least ten at night."
— Bill Hicks
Wikipedia attributes a good line to The Simpsons:
"If I could say a few words, I'd be a better public speaker."
— Homer Simpson
Load of Bull?
Researching the word brought me to a glossary put forth by the late Professor Ross Scaife of the University of Kentucky, Lexington, who credits Ernest Ament of Wayne State University. Finding a scholarly footing was almost the end of my research, but something about the word troubled me. I slouched through two years of Latin and don't have enough Greek to fill a retsina amphora, but the word didn't look like a noun. I turned to Google and …
I found William Gordon 'Bill' Casselman who appears to be the Larry Flynt of classical academic publishing: Scholars pretend to be offended by his colourful naked criticism but they can't help peeking between their fingers. And, he's almost certainly right, even if he laces his reasoning with personal (or antipersonnel) zingers and scatological descriptions. Also, like Larry Flynt, he heartfeltly digresses into social issues, asbestosis in particular. All in all, probably a guy we'd like.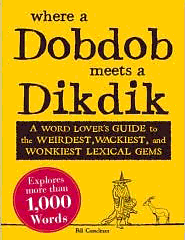 Among his many books is Canadian Words which, I might indignantly mention, fails to credit my own Can-Am Dictionary. He also writes in English. I started reading his current book, which is witty and fun, the unhyphenatedly titled Where a Dobdob Meets a Dikdik, found in desperate bookstores everywhere.
I give Bill Casselman air time, not because he's smart, well-read, and funny (he is), but because he reinforced my brilliantly ill-considered opinion that paraprosdokian doesn't look like a noun, proper or improper. Omitting his language flourishes that might get us sued or rebuked by the Right Reverend Pontifician Wright, Mr. Casselman says:
The word (paraprosdokian) appears NOWHERE in ancient Greek literature. It could NEVER be an ancient Greek word with its Late Latin adjectival ending –ian! Nearly every standard term in classical rhetoric, Latin or Greek, takes the form of a noun. But this one, we are asked to believe, is not only adjectival in form, it consists of three Greek roots and then suddenly a Latin adjectival ending appears in a word describing process. By the way, that demands a noun. …

The word is unknown to ancient Greek or Latin rhetoric. It is unlisted in any dictionary of Medieval Greek or Medieval Latin. It is unmentioned in any early English glossary of rhetoric. It is unknown in the 17th, 18th, and 19th centuries. It has never been listed in any edition of the Oxford English Dictionary. …

Certainly, there are sentences and phrases with surprise endings. Educated people call these: "sentences with surprise endings."
Cool. Stand-up comics call the technique "and then I got off the bus".
Unload
Now let's have fun. Here are examples in circulation, some that you've heard and some new:
I asked God for a bike, but I know God doesn't work that way. So I stole a bike and asked for forgiveness.

My father said, "I'll miss you, son," because I'd broken the sights off his rifle.

If I agreed with you, we'd both be wrong.

We never really grow up, we only learn how to act in public.

War does not determine who is right, only who is left.

The early bird might get the worm, but the second mouse gets the cheese.

Whenever I fill out an application, in the part that says, "If an emergency, notify:" I put "Doctor".

I didn't say it was your fault. I said I was blaming you.

Why do Americans choose from just two people to run for President and fifty for Miss America?

Behind every successful man is his woman. Behind the fall of a successful man is usually another woman.

A clear conscience is usually the sign of a bad memory.

You do not need a parachute to skydive. You only need a parachute to skydive twice.

The voices in my head may not be real, but they have good ideas.

Some people hear voices. Some see invisible people. Others have no imagination whatsoever.

Always borrow money from a pessimist. He won't expect it back.

Hospitality is making your guests feel like they're at home, even if you wish they were.

I used to be indecisive. Now I'm not sure.

Nostalgia isn't what it used to be.

When tempted to fight fire with fire, remember the fire department usually uses water.

You're never too old to learn something stupid.

To be sure of hitting the target, shoot first and name whatever you hit the target.

Sometimes I wonder why that frisbee keeps getting bigger. Then it hits me.

I want to die peacefully in my sleep, like my grandfather, not screaming and yelling like the passengers in his car.

A bus is a vehicle that runs twice as fast when you are after it as when you are in it.

Knowledge is knowing a tomato is a fruit; wisdom is not putting it in a fruit salad.

If you are supposed to learn from your mistakes, why do some people have more than one child?

Change is inevitable, except from a vending machine.

Some cause happiness wherever they go. Others, whenever they go.

I saw a woman wearing a sweat shirt with "Guess" on it, so I said, "36C?"
Finally, my own contribution: At the MWA banquet I attended, I was charmed by the feminine pulchritude and considerable expanse of skin.
I passed a woman who wore a badge upon her impressive bosom that said JUDGE, and I figured "8.9".
Wikipedia now has an entry titled 'paraprosdokian'. While Wikipedia claims to merely report, it also shapes, and I have little doubt the word is here to stay. A scholar should take the bull by the horns, drop the adjectival ending, and wrestle paraprosdokia into submission. After all,
To steal ideas from one person is plagiarism. To steal from many is research.
Reload
After laboring over this article, I discovered our colleague at Murderati, Zoë Sharp, not only wrote an article last month about paraprosdokia and T-shirts, but also offered examples of semantic zeugmas, AKA syllepses. Read on!