COFFEE WITH A BANDERSNATCH
by Steve Steinbock
As I write the opening paragraph of this week's Bandersnatch column, I'm sitting at my desk in the attic on the third floor of my Maine home. There's very little bare space on the surface of the desk. In fact, if I wanted to bring a cup of coffee or tea up here, there would be no place to put it.
Between my keyboard and my monitor is a stack of papers, two piles of CDs, the latest issue of Ellery Queen's Mystery Magazine, a harmonica (in the Key of G) and a notepad. To my right are several books, a "Life on Mars" DVD, and a reminder of this afternoon's hair appointment. To the left of me you'll find two decks of cards, a checkbook, a bowl of paper clips, a half of a dark chocolate bar, the latest issue of The 3rd Degree (the MWA newletter), and a plastic eyeball that lights up when you bang it.
On any given day, I'm working on three or four projects at my desk, and you'll find the residue of two or three others projects: notes on an article I'm toying with writing, a letter I haven't finished, a pile of photos I haven't sent to my sister yet.
Did I mention that I'm surrounded by two thousand books? A wall of shelves on my right holds my hardcover mysteries (authors K through R). Behind me are reference books – mostly mystery related, but also including Strunk and White, a collection of Zen proverbs, a book of quotations, and dictionaries in five different languages (Latin, Farsi, Japanese, Hebrew, and just to be mundane, English). On the wall to my left, I'm being constantly watched by Humphrey Bogart, Julie Newmar, and Sylvester and Tweetie. On a shelf on the wall beyond my monitor you'll find a stretching Buddha, a dancing Shiva, an Edgar Allen Poe bobble-head, and a Bettie Page lunch box.
Other than the hum of the fans in my computer and the tapping of computer keys, it's very quiet up here. Too quiet. I can't concentrate. I have the urge to play my harmonica, to listen to a CD (the Ramones and "Guys and Dolls" are closest at hand), or to bang the plastic eyeball and watch it light up.
But I have work to do. I have to map out a plot glitch in my novel. I have to write a discussion guide for Geraldine Brooks' People of the Book. I have to write my weekly "Bandersnatches" for Criminal Brief
I have to go.
* * * * * * * * * * * *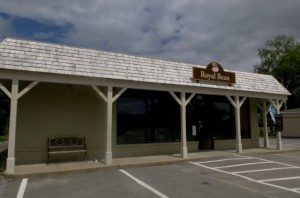 Ah, things are much nicer now. I'm at a table at The Royal Bean, a coffee house three floors down and a mile down the road from my attic. (It gets the name from the Royal River, which runs through Yarmouth, just behind the coffee house). The espresso machine lets out a regular hiss of white noise. The drone of the three people across the café from me keeps me company. I have an endless supply of coffee (which Jim, the owner, brews to order by the cup; no urns or vacuum pots for him).
It's in my blood. Not just the caffeine, but the whole coffee culture. I could attribute it to my genes: my maternal grandmother was Turkish, and her husband was Greek. On my one visit to Greece, one of the prominent features that has stayed with me as I scootered across Crete was how on every street there was a café with old men sipping strong coffee and playing backgammon. These men could have been my ancestors. They could be me.
It is at places like this that I get my best work done.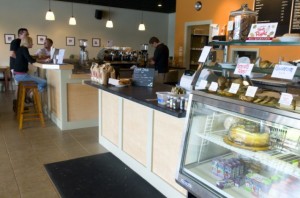 Twenty-odd years ago I was living in Stockton, California, a town that has a reputation for not having much going for it other than being in the heart of farm country and the setting for the sixties TV series, The Big Valley. But I loved it. Shortly after moving there I found a home away from home at the Blackwater Café. It's still there, and most of the people I knew back then are still going there for coffee, wine, live music, and society. By day I could order a cappuccino and a plate of nachos, read a book, write an essay, or play a game of chess. In the evening I'd come back, meet my friends, and watch a local band or folksinger on stage. It was a place, to quote Cheers, where everybody knows your name.
But getting back to Maine – and to The Royal Bean – it is now the lunch hour. The Royal Bean doesn't serve lunch. This is the best time to get work done at The Royal Bean. The place empties out before noon, and stays pretty quiet until nearly two pm. I have the place to myself, right now.
National Novel Writing Month has been getting away from me. I'm making slow, steady progress. But I've only written ten thousand words, which is a far cry from the thirty-or-so thousand I should have today in order to finish fifty by the thirtieth. But I never was good at math.
Oh, my. I've been having so much fun at The Royal Bean that I almost forgot my haircut appointment. Gotta run. See you next week.