MENCKEN MODERNIZED
by James Lincoln Warren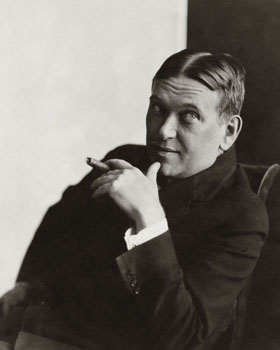 The following definitions were taken from Chapter X, "The Jazz Webster", of H. L. Mencken's A Book of Burlesques (Borzoi, 1907)—they were obviously written in imitation of Ambrose Bierce. But seeing as more than a century has passed since the marvelous Mr. M formulated them, I have added emendations below each entry.
ARGUMENT. A means of persuasion. The agents of argumentation under a democracy, in the order of their potency, are (a) whiskey, (b) beer, (c) cigars, (d) tears.

(e) promise of sex , (f) money, (g) basketball tickets.

BREVITY. The quality that makes cigarettes, speeches, love affairs and ocean voyages bearable.

And short stories.

CELEBRITY. One who is known to many persons he is glad he doesn't know.

Or, one who is known to many persons who wish they'd never heard of him. Or her.

CIVILIZATION. A concerted effort to remedy the blunders and check the practical joking of God.

The illusion that we are somehow superior to our ancestors.

CONFIDENCE. The feeling that makes one believe a man, even when one knows that one would lie in his place.

The falacious conviction that one appears less ridiculous than everyone else.

DEMOCRACY. The theory that two thieves will steal less than one, and three less than two, and four less than three, and so on ad infinitum; the theory that the common people know what they want, and deserve to get it good and hard.

The antonym of REPUBLICANISM, the theory that blowhard radio commentators should control our lives.

EVIL. That which one believes of others. It is a sin to believe evil of others, but it is seldom a mistake.

That which one believes of others (a) who belong to the other political party; (b) who speak fluent Russian, Arabic, Iranian, Pashto, Urdu, or Korean; (c) who would rather live illegally in the U.S. than legally starve somewhere else.

EXPERIENCE. A series of failures. Every failure teaches a man something, to wit, that he will probably fail again next time.

An argument which people too lazy to think use to discredit anything intelligent.

FIRMNESS. A form of stupidity; proof of an inability to think the same thing out twice.

That moral self-righteousness which renders consensus utterly unnecessary, particularly with regard to foreign policy.

FRIENDSHIP. A mutual belief in the same fallacies, mountebanks, hobgoblins and imbecilities.

The affection one feels for one's enemy at a bar when the enemy is buying.

GENTLEMAN. One who never strikes a woman without provocation; one on whose word of honor the betting odds are at least 1 to 2.

In current usage, anybody who is apprehended during the commission of a crime. Synonym for suspect.

HISTORIAN. An unsuccessful novelist.

One whose lies have acquired authority.

HONEYMOON. The time during which the bride believes the bridegroom's word of honor.

Figuratively, the period following the election of a new President during which time the opposing party only criticizes him when there is an audience.

HOPE. A pathological belief in the occurrence of the impossible.

The emotion characterizing the period between the submission of a manuscript and the receipt of a rejection letter.

HUMANITARIAN. One who would be sincerely sorry to see his neighbor's children devoured by wolves.

One who is willing to spend someone else's money for the benefit of all mankind.

IDEALIST. One who, on noticing that a rose smells better than a cabbage, concludes that it will also make better soup.

One who, on noticing that cabbage makes better soup than a rose, will wear a cabbage in his buttonhole. Cf. fashion.

IMMORALITY. The morality of those who are having a better time.

The ethical condition of the opposing political party regarding reproductive rights.

IMMORTALITY. The condition of a dead man who doesn't believe that he is dead.

Not being out of print.

JEALOUSY. The theory that some other fellow has just as little taste.

Not to be confused with ENVY, the theory that one's rival's success is the result of (a) dumb luck, or (b) a vast conspiracy.

JUDGE. An officer appointed to mislead, restrain, hypnotize, cajole, seduce, browbeat, flabbergast and bamboozle a jury in such a manner that it will forget all the facts and give its decision to the best lawyer. The objection to judges is that they are seldom capable of a sound professional judgment of lawyers. The objection to lawyers is that the best are the worst.

Someone who believes that a black muumuu is an instrument of apotheosis.

JURY. A group of twelve men who, having lied to the judge about their hearing, health and business engagements, have failed to fool him.

Nowadays, a group of twelve persons too stupid to understand the question, let alone the answer.

LIAR. (a) One who pretends to be very good; (b) one who pretends to be very bad.

(c) One who publicly discusses his sex life.

MORALITY. The theory that every human act must be either right or wrong, and that 99% of them are wrong.

In practice, the excuse for objecting to anything without bothering to think about what it means.

OPTIMIST. The sort of man who marries his sister's best friend.

Anybody who arrives in Los Angeles with a screenplay in his suitcase.

POPULARITY. The capacity for listening sympathetically when men boast of their wives and women complain of their husbands.

For celebrities, the propensity for getting arrested at night clubs.

POSTERITY. The penalty of a faulty technique.

The people who get to pay for all the fun we're having right now.

PSYCHOLOGIST. One who sticks pins into babies, and then makes a chart showing the ebb and flow of their yells.

A megalomaniac on television to whom one turns for advice on how to live, or who is featured on two-hour infomercials on PBS during Pledge Week.

PSYCHOTHERAPY. The theory that the patient will probably get well anyhow, and is certainly a damned fool.

A medical treatment for celebrity; recently replaced by cosmetic surgery.

QUACK. A physician who has decided to admit it.

Also, what a slick lawyer claims a duck doesn't do.

REMORSE. Regret that one waited so long to do it.

The last ditch attempt at fooling a judge and jury after the conviction but before the sentencing.

SELF-RESPECT. The secure feeling that no one, as yet, is suspicious.

Recently supplanted by SELF-ESTEEM, the belief that one does not have to earn anything in order to deserve getting it.

SOB. A sound made by women, babies, tenors, fashionable clergymen, actors and drunken men.

And jailed celebrities.

TEMPTATION. An irresistible force at work on a movable body.

Anything with a warning label.

UNIVERSITY. A place for elevating sons above the social rank of their fathers. In the great American universities men are ranked as follows: 1. Seducers; 2. Fullbacks; 3. Booze-fighters; 4. Pitchers and Catchers; 5. Poker players; 6. Scholars; 7. Christians.

Nowadays, an institution devised for the purpose of bankrupting parents while preparing their children for unemployment.

VERS LIBRE. A device for making poetry easier to write and harder to read.

A now discredited concept of poetry that has been replaced by urban rap.

WART. Something that outlasts ten thousand kisses.

A blogger.