PROFESSIONAL TIPS – George Orwell
by Leigh Lundin
In recent weeks, Criminal Brief shared tips from three authors, Kurt Vonnegut Jr, Jack Kerouac, and Elmore Leonard. This week we feature tips from another noted author and essayist, Eric Arthur Blair, literature's George Orwell.
Orwell's novels are straightforward and readily understood by middle schoolers, although a Florida preacher ranted youth should be protected from the books' communist messages– failing to understand the themes are anti-fascist and anti-communist. Encountering Animal Farm and Nineteen Eighty-Four about the fifth and sixth grades accounts in large part for my own deep antipathy against injustice and totalitarianism.
1984– that's so yesterday!
Twenty-five years after 1984– sixty years after the novel was published, I'm concerned Orwell may be slipping out of the public memory. I mentioned Orwell in recent conversations to blank stares. Perhaps it's what statisticians call an atypical sampling group, but several people seemed unaware of Orwell's books, which elicited responses ranging from "Huh?" to "Wasn't that the Apple Computer Superbowl ad?"
Well, yeah, but the ad's ambiance and theme derived from Orwell's novel. Did some part of the public write off Orwell's books after 1984 passed without the advent of a literal Oceania dystopia– or did creeping authoritarianism cause public acquiescence? If a couple of other literary works, US PATRIOTS Acts I & II didn't make you think of 1984, you weren't paying attention.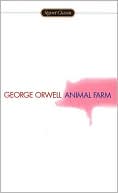 Animal Farm
From his Politics and the English Language, Orwell gives us six rules:
Never use a metaphor, simile, or other figure of speech which you are used to seeing in print.
Never use a long word where a short one will do.
If it is possible to cut a word out, always cut it out.
Never use the passive voice where you can use the active.
Never use a foreign phrase, a scientific word, or a jargon word if you can think of an everyday English equivalent.
Break any of these rules sooner than say anything outright barbarous.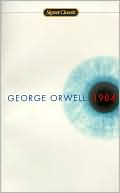 1984
Orwell urges writers to ask themselves at least four questions, and possibly six, for each sentence:
What am I trying to say?
What words will express it?
What image or idiom will make it clearer?
Is this image fresh enough to have an effect?
Could I put it more shortly?
Have I said anything avoidably ugly?
When it comes to your own writing, be authoritarian.