L'OULIPO
by Leigh Lundin
Thursday at 6p, or as the French write it, 18h, on a small stage within sight of the pond of the Villette in Paris' 19e arrondissement, the poet and novelist Jacques Jouet put on his glasses and settled down in front of his computer. He's chosen to participate in France's literary festival, Oulipo (sometimes spelled OuLiPo and pronounced oo-lee-POH), an acronym for 'Ouvroir de littérature potentielle', meaning 'workshop of potential literature'. Attendees can watch Jouet crank out prose from a video large screen at the Magic Mirror theatre.
In past articles, I've mentioned my friend Micheline, who is a voracious reader, delver into the arcane, exquisite rose gardener, recommender of things literary, and puzzlist. (I may have made that word up.) She brought to my attention Oulipo, and if you're not aware of it, I'm happy to bring it to your attention.
Constraints
This is the 49th year for the project founded by Raymond Queneau and François Le Lionnais. Each annual event has a theme, but underlying each theme runs a deeper mandate of what is called 'constrained writing', a kind of handicap or torturous goal the writer must strive against. Jean-Jacques Poucel describes Oulipo, delving into its history and describing some of the constraints, including precise mathematical restrictions, word limits, literary and character references, and palindromic sonnets. For example, S+7 (also called N+7) yielded a new field of study, the practice of substituting a substantive noun with another seven places forward in the dictionary, which, like earlier Exquisite Corpse exercises, yielded surprising results.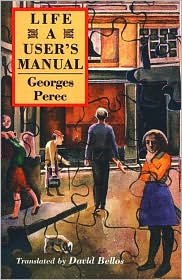 Oulipo members might have been listening when Igor Stravinsky said "The more constraints one imposes, the more one frees oneself of the chains that shackle the spirit… the arbitrariness of the constraint only serves to better precision of execution."
For example, Georges Perec's most famous novel, La Vie mode d'emploi (Life– A User's Manual) was constructed using an astonishing array of constraints, literally an array of a newly devised 10×10 Graeco-Latin square. How anyone could write a novel using Perec's requirements and limitations, let alone a great novel, is astonishing.
In some cases, a writer might be assigned the task of writing without using a common letter of the alphabet, probably a vowel, and mostly likely the letter E. This can take a great deal of ingenuity as this lipogram example from Wikipeida demonstrates:
"A lipogram (from Attic lipagrammatos, "missing symbol") is a kind of writing within constraints or wordplay consisting of writing paragraphs or books in which a particular symbol or group of symbols is missing — usually a common non-consonant, most commonly (in a South British lingo familiar to Milton) that symbol which is fifth in standard lists of Latin's script glyphs."

"Writing a lipogram is a trivial task for uncommon symbols such as Z, J, or X, but significant additional difficulty is found using common symbols such as T, A, or that fifth symbol. Writing this way, an author must omit many ordinary words, commonly arriving at an archaic-sounding manuscript that is difficult to absorb. Construction of high quality lipograms is atypical, providing a trial of skill for authors."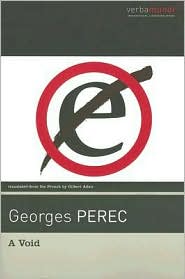 Again, Perec came to the fore in 1969 with La disparition (The Disappearance), a detective novel written entirely without the letter E, excepting of course, the author's name. The novel was twice translated into English, once by Gilbert Adair, using the title A Void, for which he won the Scott Moncrieff Prize in 1995, and by Ian Monk, titled A Vanishing.
The plot of La disparition? A group of amateurs try to find their missing companion, Anton Vowl. British reviewer Philip Howard wrote a lipogrammatic appraisal of A Void in The Sunday Times, saying "This is a story chock-full of plots and sub-plots, of loops within loops, of trails in pursuit of trails, all of which allow its author an opportunity to display his customary virtuosity as an avant-gardist magician, acrobat and clown."
Exhaust Pressure
This year, the theme harks back to another Perec novel, Attempted Exhaustion of a Parisian Place. In this case, the theme is 'Attempted exhaustion of an author'. Jouet will attempt to write thirty two installments of a serialized novel, all under the watchful public eye.
Jouet says, "I find this project brilliant. I like a little bit of bizarre writing exercises. It puts the pressure on. You should not take that wrong, it is a very positive pressure." He goes on to talk about another famous French mystery writer. "Georges Simenon led this type of experience at the very beginning of his career, locked into a glass cage. I had always said to myself that I would like to try it!"
X-Pos
To outsiders, Oulipo may look like silliness and fun and games, but language and literature experts take this seriously, noting France has a history of grand and far-reaching artistic and literary experiments, notably the Surrealists use of Exquisite Corpse.
Not only has great literature come out of Oulipo, but its techniques and nuances have become subjects of serious study in both France and the UK, and– when the British like something French– you know we're on to something.
You can now find Oulipo studies in the US including lectures and courses offered at Loyola Marymount University in Los Angeles, Duke University, and, to my surprise, the University of Florida.
Meanwhile, in Paris, word, chapter, and verse spew out of Monsieur Jouet's computer and the hours count down…