HABITUAL OFFENDERS
by James Lincoln Warren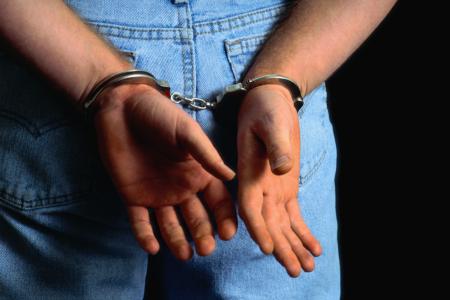 Why have so many short story publications gone the way of all flesh?
This isn't a new phenomenon. It's been happening gradually for several decades. When I was a kid, there were lots of short story magazines on the newsstands, and "slick" magazines regularly printed short fiction. Most of the fiction magazines have ceased publication and you won't find anywhere near as much fiction in slicks anymore. How did this happen?
One answer may be that the American public's tastes underwent a sea change, and that readers no longer attach the importance to short stories that they once did. According to this theory, the novel, especially the mass market paperback, supplanted the magazines in the public favor.
Except that there really don't seem to be that many more novels on the shelves, and they're not as widely available as they used to be. I used to buy most of my paperbacks from wire racks at the neighborhood ice house (that's Texican for "convenience store") or from the books section in department stores. No more, although you can still find paperbacks in large drugstores.
The novels are also a lot longer—and relatively more expensive—than they used to be. When I was a kid, you could buy a paperback for 45 or 50 cents. (Comics were 12 cents.) Those books were usually not longer than 50 to 70 thousand words, about half the length of most paperbacks these days. All of John D. MacDonald's Travis McGee stories originally came out in mass market paperback until The Turquoise Lament, the fifteenth in the series. Today, there are very few mystery series that are at home in that publishing segment, and from what I can tell, almost all of them seem to be cozies. (Nothing wrong with that, of course, but the mix of available genres has certainly changed.) Have tastes changed that much?
Well, maybe, but it doesn't look like the mass market paperback is exactly having a renaissance.
So I don't think the paperback novel displaced the short story magazine. But something has influenced people to buy fewer of them. I think the reason fewer people are reading short stories is because fewer people are reading for their daily pleasure. They save their leisure reading for vacations and weekends and other laid-out blocks of time. In other words, they save their reading for that novel they've been waiting to get into.
My theory is that there are two main culprits: leisure time competition and changes in publishers' priorities.
The latter of these is the simplest to explain. Publishing houses underwent a revolution in the eighties and nineties as imprints combined into large mega-houses or were acquired by multi-level transnational corporations, run by business-trained MBAs instead of by executive editors. These tycoons demanded changes in the bottom line. This meant that instead of being satisfied with a wide range of modest successes, they wanted fewer titles with higher returns—the so-called "blockbuster syndrome". The same thing happened in the film industry at about the same time—and many of the big corporations were the same, too. The proximate result of this was the abandonment of the midlist title—and that includes anthologies, especially original anthologies. (Some of the slack has been picked up by the recent proliferation of small specialty houses and regional publishers, but not enough to restore the previous landscape.)
There has always been a sort of symbiosis between original anthologies and magazines. It works something like this: you see an anthology featuring a story by one of your favorite writers, say, Agatha Christie or Rex Stout. You buy the book, and discover a story you really like by a writer you have never heard of before. A month later, you see that new writer's name on the cover of Ellery Queen, so you buy a copy. You enjoy the magazine so much you subscribe, and also start looking for Alfred Hitchcock. And then you encounter a new name in one of the magazine issues, and when you see that writer's name on the cover of a mass market anthology—or even a novel—you buy it. And so on.
This admirable system collapses, however, when the only books being published are doorstops by megastars.
True, the laws of supply and demand state that big houses would publish more anthologies if there were a sufficiently large audience for them, but since no anthology will ever be a blockbuster, they have no motivation for publicizing anthologies. So they act as if that "market segment" doesn't exist. No publicity, no custom. So much for rapacious publishers.
The former reason, though, is where I really lay the blame. Competition for leisure time has never been fiercer. There are lots of reasons for this, from urban sprawl and increased transit times in automobiles from home to work and vice versa, to eyestrain and fatigue from overwork once you're at home, to the undemanding soporific of late night television. Also, of course, there's the internet, where gratification is almost always instantaneous and easily within reach.
First, the automobile. If you don't take a train or a bus to work, you're not going to read on your way into town. Even if you do take a train or a bus to work, these days you're just as likely to be listening to your iPod or actually working before you get to the office by flying your thumbs over your Blackberry's keyboard. But if you do read on the train or bus, the ticket is short fiction. Novels are for airplanes and weekends.
Second, eyestrain and fatigue. Reading requires effort on the part of the reader. My Dad used to read the evening paper when he got home from work, as regularly as the phases of the moon. Evening papers don't even exist anymore. It's much simpler to plop down on the La-Z-Boy and turn on the telly. I don't hate television, not really. But I do hate mindless, undemanding TV.
Which brings me to Point the Third, late night broadcasting. I don't have a TV in my bedroom. Before I go to sleep, I read. Short stories are perfect fare for bedtime reading—you start a story and 20 minutes later, it's lights out. But most folks are watching something, anything from The Tonight Show to Friends reruns to Nightline. Not mindless, except for Friends, but still easy of access, and if it makes you think too hard, you've already got your thumb on the OFF switch on the remote.
Finally, the internet. The reason the internet is so seductive is that gratification is almost instantaneous and surfing virtually effortless. Not a lot of people do any serious reading on the internet, but most of us read short stuff like, say, Criminal Brief. (I was interested, by the way, to see how many people would actually listen to the 75-minute discourse of last week's "Selling Shorts"—as I suspected, there were fewer visits, since few folks have an hour and a quarter to spare.) You don't have to go looking for the internet. It's right there all the time. And it yields up serendipitous treasures all the time.
In short, I think American reading habits have changed. We've all turned into habitual offenders. As a consequence, people who would otherwise read and enjoy fiction have no motivation to do so—they don't have time, they're too tired, they're too lazy. And it's a shame, because short fiction might just be the best thing for them, without interfering with all the other demands made on them—it doesn't take much time, it isn't exhausting, and it takes no effort to pick up the magazine from your mailbox once a month and stuff it in a purse or coat pocket.
I have expressed to the Gentle Reader my worry that sometimes I'm preaching to the choir. On the other hand, the main reason churches have choirs is so the congregation will join in on the hymns—the choir is spreading the Gospel in a communal way, a way that the sermonizer can't. So my question is, what's the best way to get the choir to sing? How do we get the word out that short stories can enrich lives as easily and more profitably than the forces competing against them?
Yes, that's the reason I created CB in the first place. Excuse me while I play an "A" on the church organ. It's time to tune up.