by Leigh Lundin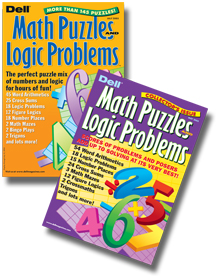 The factors that first drew me to mysteries were the puzzles, the clues, picking out the salient elements and making sense out of them. Those were the same reasons that drew me into writing operating systems software: A computer is a big, complex puzzle, and I enjoyed solving its crimes and misdemeanors and bending the stubborn beast to my will. (No, I had nothing to do with Windows; I can't be blamed for that.)
You already know that Dell Magazines / Penny Publications puts out Alfred Hitchcock and Ellery Queen Mystery Magazines, but they are also a publisher of top puzzle magazines. In fact, you can occasionally find puzzles in their issues.
When I visited Janet Hutchings and Linda Landrigan in their offices, I noticed puzzle magazines in their lobby. I said I wanted to buy one and the ladies simply gave me a copy.
Their kindness was a good investment; before I left the city, I'd called in a subscription to Math Puzzles and Logic Problems. I know, no matter how good looking (and modest) I am, I'm an unrepentant geek.
One of our readers, Judy, sent a little puzzle game from quizyourprofile.com my way and asked how it worked. Her words were, "Are you like totally into NUMB3RS, or what?"
Following is what she sent me. Take thirty seconds to run through it, then come back here and I'll show you how it's done.
Here's how it works. It's so simple, you won't believe it.

Screen 1:

Note that there are 5 colors each with 5 numbers, for a total of 25 numbers, 1-25. When you pick a color, the program narrows your selection to one of 5 numbers.

Screen 2:

Unimportant misdirection: You can blindly pick any color because its only purpose is to convince you that something magical is happening.

Screen 3:

Each of the 5 numbers in your original color selection is in a different 'house'. Once you pick a house, the program knows by process of elimination your number. The colors here mean nothing. Note 26-30 weren't among the original choices!

Screen 4:

Unimportant misdirection: Its only purpose is to convince you that something else magical is happening.

Screen 5:

The computer has known your number since Screen 3, so no matter which door you pick first, your number appears. Then, once you've opened a door, it will sneakily put two other numbers behind the other doors!

---

Example:

Say your number is 2 so you click the red button on Screen 1. The program knows your number must be 13, 15, 5, 2, or 20.

Skip to Screen 3 where you'll click on House B. Since 13, 15, 5, and 20 are not in that house, your number must be 2. (Note that 26 was not a choice to begin with.)

Skip to the last page and click any door, where you'll find a 2. Once done selected, the computer sticks two other numbers behind the other doors.
Simple, huh!
I love a mystery.