ON A GENDER ROLL
by Steve Steinbock
I've been enjoying the discussion, led by my criminal colleague Leigh Lundin for the past three weeks, on male/female differences as applied to fiction writing. A few days ago Melodie joined the discussion with her own High-Heeled observations. Today I'm jumping on the gender bandwagon just because. We're on a roll. Or is it role?
This subject has been on my mind. I've been reading a book called Why We Read Fiction: Theory of Mind and the Novel by Lisa Zunshine. It's a fascinating book, and she gives equal time to detective fiction (Hammett, Christie, Grafton, etc.) as she does to Virginia Woolf and Jane Austen. Zunshine's premise, reduced by me to a sound-byte, is more or less that we read fiction because we enjoy interpreting, empathizing, and interacting with the emotions of the characters. (There's a lot more than that. That is just my ten cent summary).
Professor Zunshine's book directed me to Simon Baron-Cohen (first cousin to "Borat" star Sacha Baron-Cohen), whose The Essential Difference: Male and Female Brains and the Truth about Autism. The Cambridge University professor of psychiatry posits that women's brains are "predominantly hard-wired for empathy," while men's are "predominantly hard-wired for understanding and building systems."
Baron-Cohen is making generalizations, and so am I. My hypothesis is that the absence of a Y-chromosome sways (female) writers to emphasize human interaction, while writers with a Y-chromosome (i.e. males) are inclined to write stories that emphasize action and ideas.
The corollary of this is that male readers tend toward action and idea filled books, while female readers tend toward books that are heavy on emotional development and interaction of characters.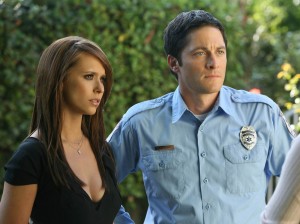 Like the friend Leigh mentioned in part two, I've watched my share of Ghost Whisperer episodes and I freely admit that I watch it for Jennifer Love-Hewitt's cleavage, but one thing I've noticed throughout is that the character of Melinda's husband — good-looking, romantic, and understanding paramedic — is even less believable than the ghosts. He's not a real man. He's a woman's fantasy of a man. Which got me thinking, fictional characters aren't real people — they're fictional. But they do have to fit the target audience's image — or ideal — of real people. Just like Leigh's EXAMPLE 1 of unrealistic male characters, it may be improbable, but it's what many readers want.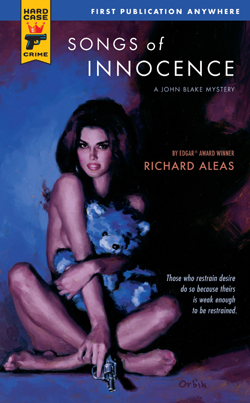 Lawrence Block's "Chip Harrison" novels are the male counterparts to women's romance novels. More recent examples are the "John Blake" novels by Charles Ardai (under the pseudonym Richard Aleas). Nubile women don't normally lose their underwear or throw themselves at men like they do in every chapter of these novels. But it makes for interesting reading.
Why should readers care whether Elizabeth gets together with Mr. Darcy? They're not even real people. But countless readers of Pride and Prejudice do care. And a majority of these are women. Likewise, Janet Evanovich's books don't sell because of the intricate plotting. People come back to her books because they care about Stephanie Plum.
On the other hand, no one reads Tom Clancy or Clive Cussler because of an emotional attachment to Jack Ryan or Dirk Pitt.
One last observation: in comment #11 to Leigh's third column on gender, our dedicated community member Alisa mentioned, "yet another vice we women have – fixing things!!" I'd like to qualify that. It's men who feel compelled to fix things. That's why we are always tinkering with cars and computers, and why when women are upset about something, we make the mistake of trying to fix the problem rather than simply understanding it. The things that women want to fix tend to be relationships.