A BITE BEFORE HALLOWEEN
by Steve Steinbock
Tomorrow night the streets will be filled with vampires, werewolves, princesses, and comic book superheroes. I considered arriving at Criminal Brief headquarters dressed all Goth, but my lace shirt was at the cleaners.
Besides, as my friend and fellow Criminal Briefer James Lincoln Warren so eloquently explained two years ago, to the chagrin of Humpty Dumpty, the word Goth doesn't mean what it is supposed to mean.
Nevertheless, this season always takes me back to my youth when I could list for you all the Universal Horror films starring Boris Karloff, Bela Lugosi, and Lon Chaney, Jr. Anyone else out there remember Dark Shadows, this kitschy-cool "Gothic" soap opera? I used to rush home to watch the daily perils of Barnabas, Angelique, Maggie Evans, and the Collins children. I'm certain, with its cheap video cameras, unedited sequences, and flimsy sets that it hasn't withstood the test of time as well as Barnabas did on the show. But it sure had its charm.
Today I thought I'd share with you my top thirteen vampire flicks:
Nosferatu (1922, dir: F.W. Murnau). This was the daddy of all vampire flicks, and Dracula was never quite so creepy as Max Schreck as the truly rodent-like Count Orlock (Stoker's character was still under copyright).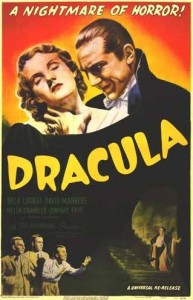 Dracula (1931, dir: Tod Browning). One of the true classics of Universal Horror films, it features Bela Lugosi on one of those rare instances where his overacting actually fit the script. This version of Stoker's novel was based on a pretty good stage adaptation.
Abbott and Costello Meet Frankenstein (1948, dir: Charles Barton). Bud Abbott and Lou Costello find a mummy, try to help a wolfman (Lon Chaney, Jr.), and go toe to toe against Dracula (Lugosi). Glen Strange stands in as Frankenstein's monster. The producer is someone named Robert Arthur, but it's not our Robert Arthur (i.e. the writer, anthologist, and Hitchcock ghost-writer).
Dracula (1958, dir: Terence Fisher). The Hammer horror films were popular among boys for one reason: cleavage. These movies showed a lot of it. They were also pretty good for their somniferous effect, which makes you wonder how good that cleavage really
was. But this one with Christopher Lee as the Transylvanian count and Peter Cushing as Professor van Helsing was memorable. I also really enjoyed watching the vampire disintegrate into ash at the film's climax.
The Last Man on Earth (1964). Richard Matheson didn't like the way this one turned out, but I think it's the most faithful adaptation of I Am Legend. Vincent Price – in a role that would be repeated by Charlton Heston and Will Smith – plays the lone survivor of a pandemic that has transformed earth's human population into a race of vampires.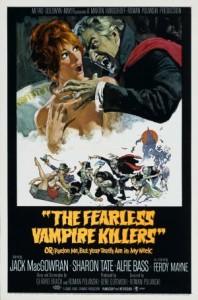 The Fearless Vampire Killers; or Pardon Me, But Your Teeth are in My Neck (1967, dir. Roman Polanski). There have been a number of good vampire comedies over the years, but this spoof is my favorite. Polanski plays a hapless assistant to a vampire hunter and Sharon Tate appears as his love interest. There's a great ballroom scene and a ridiculous sled chase. I will refrain from making any Polanski jokes.
The Night Stalker (1972). This made for TV movie brings together Dan Curtis (producer), Richard Matheson (writer), and Darren McGavin in his most memorable role: the supernatural detective Carl Kolchak.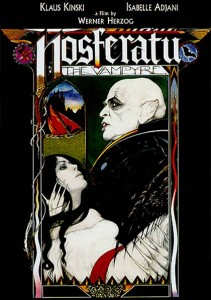 Nosferatu the Vampyre (1979, dir: Werner Herzog). This is a lavish and stylistic remaking of the Murnau film, starring Klaus Kinski as the rat-like vampire. Somewhere I have an original promotional poster for this film.
The Hunger (1983, dir. Tony Scott). Some may find this film long and plodding. But I found it to be the most moving vampire film out there. David Bowie and Catherine Deneuve play an immortal couple living in New York's Goth rock subculture. When Bowie's character begins aging, the couple seeks the help of a doctor played by Susan Sarandon. This was Tony Scott's directorial debut.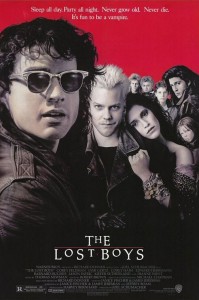 The Lost Boys (1987, dir: Joel Schumacher). This is a cool coming-of-age horror adventure about a group of young vampire hunters (including Corey Feldman and Corey Haim) that go to war with Kiefer Sutherland's vampire gang in coastal California. It's a bit like "Stand By Me" but with a punk sensibility and sharper teeth.
Vampire's Kiss (1989). I don't remember the details of this one, except that it was funny, it starred Nicolas Cage, and I loved it.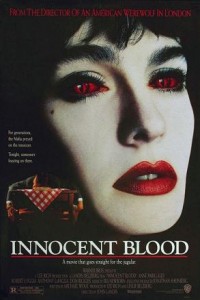 Innocent Blood (1992, dir: John Landis). Anne Parillaud ("La Femme Nikita") plays a beautiful vampire with a conscience and a sense of justice. She comes to the aid of an undercover cop to take down a crime boss (played by Robert Loggia). Great script. Great supporting cast. And John Landis.
Shadow of the Vampire (2000). This puts a bizarre spin on the original "Nosferatu" movie. John Malkovich plays the German director F.W. Murnau who discovers the perfect man to play the vampire in his movie, but doesn't realize at the time that Max Schreck (played by Willem Dafoe) actually is a vampire. Slow moving, creepy, and thoughtful.
That's my list. I know I left out a lot of good ones. Let me hear about your favorites. I'll be back next week with a very different spin on what it means to be Goth.