X WHY? Part V: Deep in the Heart of Texas
by Leigh Lundin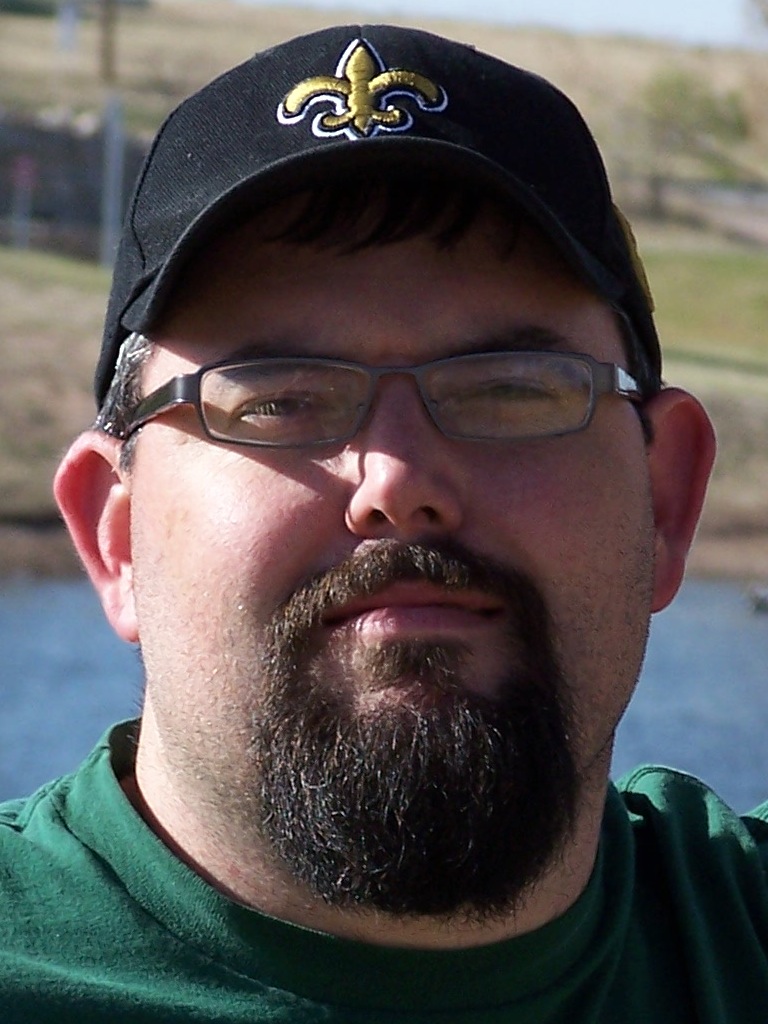 Travis Erwin is hard to miss. In person, he's 6'5 Texan and he has about 600,000 fans and friends, many on the internet, where you'll find one of his stories. He has another in the Range 'Riters Anthology and is slated to appear in the 2009 Byline Writers Calendar.
His 600,000 or so fans know his secret; he also writes romance and women's literature. Although he's a friend of Deborah's, I think he first came to my attention through his fan base at Women of Mystery. He modestly claims he's more romantic on the printed sheet than between the sheets, but his wife Jennifer might have a different opinion.
I've written several mystery/intrigue stories from a woman's perspective, but Travis has taken female PoV a leap farther. He's big, muscled, and capable of defending himself, so you've got to be pretty damn drunk to screw with him. There is one thing, though, a guy can't defend against.
Travis made an oblique comment about one bad episode and I persuaded him to write about his experience writing women's literature. I had no idea what his story was until I prepared his article for this column. You'll learn about his ordeal in this powerful telling of his story.
The GOOD, the BAD, and the UGLY
A few weeks ago, Leigh asked me to share my experiences of writing and marketing women's fiction. I wracked my brain for the perfect analogy to accurately describe the ups and downs of being a big, hairy Texan who happens to write emotionally driven stories as told predominantly via a female POV.
My first thought was to say … It ain't a bed of roses, but that would be cliché and besides, as a man who pens "Girly Stories" I might send the wrong idea by commencing to talk about flower gardening as well. So, in search of a manlier way to relate my endeavors, I settled upon a much-used movie title,
The Good, the Bad, and the Ugly. Not only do those words aptly describe my experiences, but Clint Eastwood is about as manly as you can get, so by association those words also lend my tale a hearty dose of testosterone. It's all about balance folks, and I like to strike an even chord between both my masculine and feminine side.
The GOOD
Whether it be an agent, an editor, a fellow writer at a conference, or an acquaintance at a random social gathering, the first question people ask me about writing is nearly always, "What do you write?"
At 6'5" and nearly three hundred pounds, I'm a large guy. I also have a definite Texas twang to my voice and a big bushy black goatee, so the last thing they expect to hear is Women's Fiction. The surprise in the questioner's expression is priceless.
For the random person I often mess with them by adding, "Mushy love stories are my specialty, but I'm thinking of writing a novel about the emotional dynamics of sisterhood." To which they usually laugh and assume I'm joking. Depending on my mood I sometimes act offended just to watch them back-peddle. Rest assured, those are some interesting conversations, but for the sake of this post I'm going to focus on agents and editors reactions.
They too are surprised. They'll usually narrow their eyes and study me for a few seconds, but they also sit up straighter in their chair and lean forward as I deliver my pitch. In other words, I get their attention and hold it a few seconds longer than I might have otherwise.
I don't write the stories I do for these reasons, but being a man writing women's fiction does make me unique and when you are chasing a dream that can seem dang near impossible, I consider anything that makes me stand out as a good thing. Let me share a story that illustrates the reaction I get.
Back when I was a newbie writer attending only my second writer's conference I submitted the first chapter of my novel for consideration in a New York editor's critique session. Names were not allowed on the pages we submitted, but about a week before the conference I received word that the editor had chosen my chapter as one she would critique in the workshop.
As you can imagine I was nervous as the day approached. I'd already gotten a few rejections on the piece and I feared that I would make a fool of myself in front of the other writer's in attendance. When I got there and found out we would have to stand up and read our work I began looking for a bottle of rum to steady my nerves, but it was too late. I was locked into the room and there was nowhere to hide.
Then the ALL-POWERUL New York editor said, "Let's start with the author of …" and read my title.
Sweat beaded on my brow. Why did I have to go first?
I stood and began reading. Two lines in she held up a hand and said stop. My heart sank. Already I was going to get reamed.
But then she said, "I can't believe you are the author of this story. I would have bet my life a woman wrote this story, or maybe a gay man."
I wasn't too sure how to take that so I stood there looking like an idiot with my mouth agape until she went on.
| | | |
| --- | --- | --- |
| " | Straight men rarely write with the sense of observance or the emotion that is in your words. … Sorry, didn't mean to interrupt. Go on. | " |
I finished the piece and took a few lumps in the follow up critique, but in the end she requested the entire manuscript and while things didn't work out I came very close and that same editor has helped and guided me many times in the years since. Had I not surprised her, she never would have given me a second thought and become the friend she now is today.
The BAD
After that initial surprise fades, I'm often met with skepticism. More than once I've looked across the table from an agent or editor in a pitch session as they grilled me. What authors do you read? What else have you written? Do you have ideas for other novels in this genre? I even had one agent flat out tell me, "I like what you are saying and the pitch sounds intriguing, but looking at you I have my doubts that you can pull that kind of story off."
It's never a good thing to have an agent already doubting you before they've even read a word of your prose. More than once I've felt that the non-conventional nature of my gender, in relation to my genre, add another level of difficulty to an already tough task.
I have written three women's fiction novels and while each of them have been made it to the stage where they have been requested in their entirety — I am still an unagented author. I have had agents tell me I'd have to publish under a pseudonym and that my gender would be selling the novel that much harder. Maybe these are just excuses on their part to appease the sting of rejection, but I know agents do not make a habit of personally calling authors to reject their work and that has happened to me twice now, so I feel like I have been close but just couldn't clear that final hurdle.
Did my gender play a role in their final decision? Was being a male the proverbial straw? Who knows, but it did raise my doubts enough that my current novel is not women's fiction. I had to be pushed and shoved, but I finally went out of my way to write a book that is more along the lines of what somebody would expect. Humor. Hey, I'm a funny looking guy, so it seems like a natural fit. I'll let you know how things work out because I plan to start querying soon.
The UGLY
In truth there haven't been all that many truly ugly moments. I love writing and I'll continue to churn out novels regardless of what happens to them once I send them out into the world for consideration. And despite my recent novel not being women's fiction, I will again dive back into the genre. That is how my mind works and I have a spiral full of story ideas that lean that direction. I do plan to include more humor in my future works of women's fiction as I think humor may be closer to my natural voice than my earlier novels, but let me share you one story of the ugly side that I can laugh about now that a bit of time has passed.
A few years back I attended a week long workshop out in Arizona. At the end of the week agents and editors came in so we could pitch our work. My novel was about a young woman dealing with the emotional aftermath of an abortion.
And one editor's reaction to my pitch? These words which I shall always remember …
| | | |
| --- | --- | --- |
| " | No one with a penis between their legs has the right to write a single word on that subject. | " |
Doesn't get much uglier than that and needless to say, she didn't request any pages, but guess what?
The other agent in the room did and in this business a yes of any kind is all we can ask for.